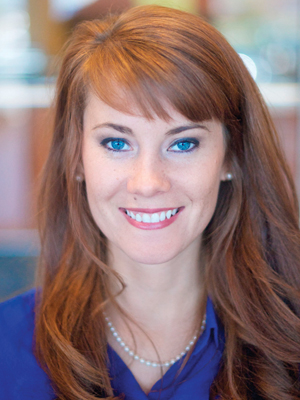 Jennifer Williams
Senior Human Resources Generalist
Center for Toxicology & Environmental Health LLC
North Little Rock
Age: 27
Jennifer Williams
As Jennifer Williams was about to graduate from the University of Central Arkansas, she had a career crisis: Her degree was in broadcast communications, but she realized she didn't like her job options.
"I was completely clueless," she said. "I was applying for anything my degree could kind of mesh with."
But she lucked out when she got a human resources job with Cardinal Health, No. 19 on the Fortune 500 list. "I got hired for a more high-level job than what I was obviously qualified for," she said. "But for some reason the manager took a chance on me."
Williams was eager to prove herself. "I went home from work every night and read government documents," she said. "That was my life for a really long time."
Ultimately, Williams identified some problems with the company's system, and the changes she helped implement were eventually adopted into the corporate model. From there, she decided to diversify, moving from a company employing 35,000 to Center for Toxicology & Environmental Health LLC, which employs around 100.
Now, Williams is vice president of the Central Arkansas Human Resources Association. She also sits on the board of directors for the young alumni chapter of the UCA Alumni Association.
Williams said she wants to add more diversity to her resume, even if it puts more rungs on her career ladder. "If that means it takes longer to get to director level or CEO level, then it does," she said