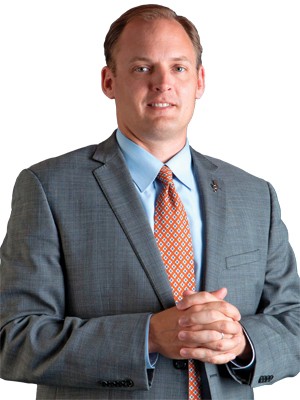 John Erck
Senior Director of Development & External Relationships
University of Arkansas Walton College of Business
Fayetteville
Age: 39
John Erck
Several years ago, John Erck's then 5-year-old son, Jack, was asked to explain what his dad did for a living. "He goes and meets with people and asks them for money," Jack said. "Then he brings some home to us."
Erck actually does something close to that as the senior director of development for the University of Arkansas' Walton College of Business. Erck heads the college's $225 million fundraising campaign.
He comes to the position with plenty of experience. Erck served three years with the university's Athletics Department, where he helped raised the funds to build a $40 million football center. "Higher education has a lot more complexity than athletics," Erck said. "My role raising money for the football center is something I'm proud of. I'm proud of being able to take on the tough ones. I can get them to give."
Erck and his wife have two daughters in addition to his son. His daughter Ava was born with hyperinsulinism, which caused doctors to remove 95 percent of her pancreas and gave Erck a greater appreciation for charitable donations to health foundations and the Ronald McDonald House. "If I'm ever in the position of the people I call, that's where my money would go," Erck said. "That was a life-saver for her."

Latest Arkansas Business Poll
How do you plan to buy most of your Christmas gifts?