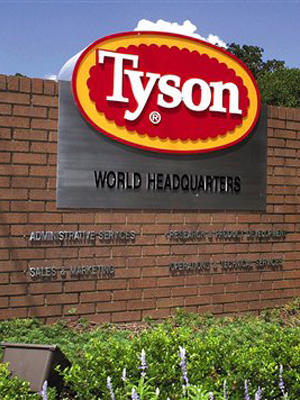 The Associated Press reports that the Environmental Protection Agency has started an investigation into Tyson Foods Inc. of Springdale.
This, after a May 16 discharge of a food supplement that allegedly led to ammonia entering a Missouri creek and killing 100,000 fish. The publicly traded meat processor revealed the investigation earlier this month in a filing with the U.S. Securities and Exchange Commission.
"We're cooperating with the Environmental Protection Agency in its investigation, as we have with state and local agencies regarding this incident," spokesman Worth Sparkman told the AP.
KSPR, an ABC affiliate in Springfield, has more on the investigation and the spill here.
In other news, Tyson has for the second time extended the tender offer for its purchase of Hillshire Brands as the U.S. Department of Justice's Antitrust Division continues its review of the $8.5 billion deal.
Tyson announced last week that it had extended its tender offer for the Chicago firm as the DOJ sought more details of the deal. At the time, Tyson said the request related "only to a very small portion of the combined Tyson/Hillshire Brands business," and that it still expects the deal, reached in July, to go through.
Tyson announced the second extension of the tender offer in a news release on Tuesday. The offer has now been extended to Tuesday.

Latest Arkansas Business Poll
Do you approve of Gov. Hutchinson's plan to deal with health care?