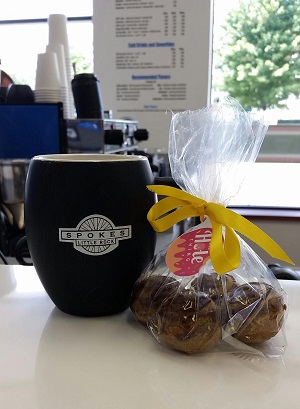 Sydney Brazil's gourmet doughnut holes will soon be available at Spokes in downtown Little Rock.
Those darn kids are at it again.
Sydney Brazil, a junior at eStem High in downtown Little Rock and a member of the Noble Impact student entrepreneurship program, has expanded her gourmet doughnut hole business.
Downtown workers can get their doughnut hole fix beginning Friday, Sept. 5, at Spokes' coffee and smoothie shop inside Orbea's North American headquarters in the 100 block of Main in Little Rock. Spokes is a retail outlet for Orbea, and it recently opened a coffee/smoothie shop inside the high-end bicycle showroom.
Brazil launched The Hole Thing, a gourmet "donut holery," last year and currently creates her goodies in the kitchen at the Copper Grill, the downtown restaurant located at Third and Cumberland streets. Her holes appear on Copper's dessert menu, and Brazil continues to fill catering orders.
Hole Thing concoctions now will appear each morning beginning Sept. 5 at Spokes, which will buy "holesale" from Brazil and then sell the holes in packages of three for $3. Brazil's first order from Spokes: three dozen holes for that first Friday morning and another three dozen for the following Saturday.
Brazil tells us she will "circulate" her ever-growing variety of flavors through the Spokes menu (which include chocolate chip, birthday cake, apple fritter, even Mexican hot chocolate).
There's more. Brazil recruited help for The Hole Thing from fellow Noble Impact/eStem student Jase Burton. Burton moved on to form his own startup business, the Burton Agency, which just signed Spokes as its first official client. Burton says he'll help Spokes "extend its brand and build relationships in the community" through social media marketing.
"Our goal is to engage businesses with their target market within the community and build relationships between business owners and local consumers to make the community stronger and generate more leads to help businesses remain healthy and grow," he said.
And to think some of us used to waste away after school in front of "Gilligan's Island" reruns.

Latest Arkansas Business Poll
Do you approve of Gov. Hutchinson's plan to deal with health care?