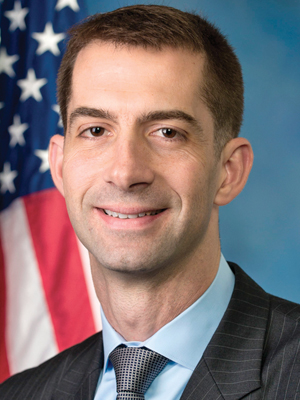 Tom Cotton
U.S. Sen. Tom Cotton, R-Ark., appeared on MSNBC's "Morning Joe" today to talk about Donald Trump's continued skepticism about U.S. intelligence reports that attribute the hacking of Democratic party emails to the Russians.
But Cotton also touched on Republicans' plans to repeal the Patient Protection & Affordable Care Act, or Obamacare.
Cotton was asked what he'd say to those on Obamacare who might be concerned about losing their health insurance.
"We don't want anyone to lose their coverage," Cotton said, and, in short, he cited Arkansas' hybrid Medicaid expansion as a possible model for how the GOP could replace the current system.
Here's what he said in full:
Well, we don't want anyone to lose their coverage. When we replace Obamacare, we want to fix the problems that Obamacare made worse from the pre-existing system. Now Arkansas has something of a unique system under Obamacare — our state government didn't just expand Medicaid like most states; it used that money to help people buy private insurance. That may be something we look at when we replace Obamacare. Whether it's a tax deduction or a tax credit, we provide every American with the ability to go out and find affordable health insurance to fit their needs, not the needs that are dictated by politicians in Washington.
Health care was also the topic of Gov. Asa Hutchinson's appearance yesterday on Neil Cavuto's Fox Business program.
Hutchinson's comments came amid reports that the president would meet today with Democratic leaders to find ways of preserving elements of Obamacare under the new presidential administration.
Hutchinson's message to the president: Stop trying to preserve a plan that must be scrapped. He also said states want more control of their health care programs and cited block grants as key to whatever new system the GOP devises.
Here's the governor's full comments:
President Obama needs to simply not make any additional foreign policy announcements, not make any additional executive orders, let the new administration initiate their policies the people of America elected them to do. And so, when it comes to the Affordable Care Act, there's nothing more President Obama can or should do — enough damage has been done.

From a state's perspective, we simply want more control. We want to be able to have broader block grants to manage the Medicaid program, to create the savings, the work incentives. You give us that authority, we'll manage it well, make sure people have health care, but also as something we can afford. I'm looking forward to a Trump administration that will, with Congress, repeal the Affordable Care Act and will move us in a different direction.
Hutchinson was also asked how long he thought a repeal could take. "From a state perspective, I think you can make a transition within two years," he said. "It looks to me like the first thing you do is give the states more broad authority. We need that in Arkansas."
You can watch both segments below:
Tom Cotton on MSNBC today:
Asa Hutchinson on Fox Business Tuesday: