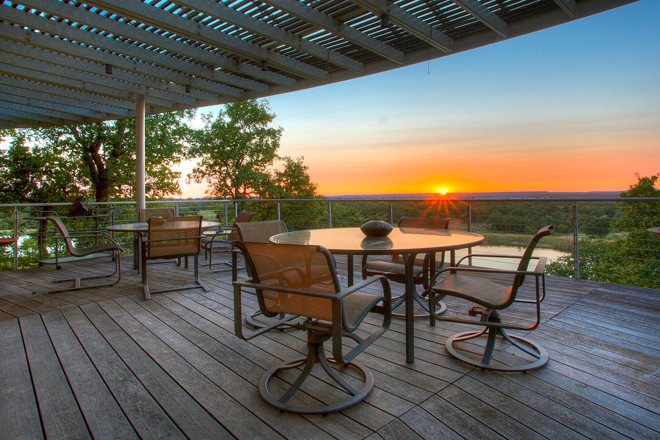 Alice Walton's Rocking W Ranch includes more than 1,435 acres, several residences, and a full horse-training facility.
Alice Walton has sold her 1,400-acre Texas ranch two year after first listing it.
Walton's Rocking W Ranch is located along the Brazos River on the Parker/Palo Pinto County line in Millsap, Texas. Originally listed in September 2015 for $19.75 million by WilliamsTrew Real Estate of Fort Worth and Coalson Real Estate of Weatherford, Texas, the price dropped to $16.5 million in May 2016.
The Fort Worth Star-Telegram reports this week that the cutting horse ranch sold in September to Three Amigos Investment Group of Kermit:
Tony Underwood, a representative for the Three Amigos, could not divulge what they paid for the ranch but court records show they didn't finance the purchase. He said they will run cattle and other livestock on the property. The company has plans for the cutting horse facility, but he said those plans are not finalized.

For someone wanting to buy a little piece of Texas along the Brazos, the Walton ranch is considered a gem. It includes a blend of improved pastures and wildlife-friendly habitat while also being located near major roadways.

"It had varied ecology and topography. It had quite a number of desireable attributes to it," said Allen Crumley, a real estate broker and farm and ranch specialist with Williams Trew in Fort Worth. "Alice has very good taste in real estate."
The newspaper says Walton has yet another spread for sale: the 4,416-acre Fortune Bend property near Possum Kingdom Lake. That property is on the market for $22.1 million.
Arkansas Business reported in 2015 that Walton was selling the cutting horse ranch in order to focus on Crystal Bridges Museum of American Art in Bentonville, which she founded in 2011. She had previously sold her cutting horse business.
You can see a slideshow of the Rocking W Ranch here.