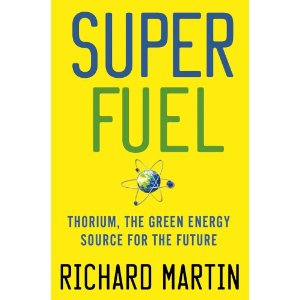 Richard Martin's "Super Fuel," available here.
It was my pleasure to moderate a session Saturday on Richard Martin's forthcoming book, "Superfuel: Thorium, the Green Energy Source for the Future,"at this year's Arkansas Literary Festival.
The book, which came out of Martin's 2009 Wired article, looks at thorium, a radioactive element and alternative fuel that produces zero nuclear waste, is cheaper than coal, more abundant than uranium and can't be weaponized.
Despite all its benefits and advantages over other forms energy, thorium has been largely forsaken by the American energy industry. Martin explores the long history of thorium, including the efforts of Alvin Weinberg, a scientist on the Manhattan Project and advocate of thorium reactors. And he looks at how countries like China and India are positioning themselves as future leaders of thorium power, and how small groups of innovators and investors in the United States are working to develop thorium power as a viable alternative to other more costly and dangerous forms of energy.
Martin, a former Arkansas Times editor who grew up in Little Rock, has been reporting on energy and technology for 20 years. Despite subject matter that many find intimating, he delivers a brief, colorful and yet comprehensive narrative that readers with even a passing interest in energy policy will find fascinating. Martin's book makes complex issues and history relatable. And the discussion of the United States' energy independence — here, presented with a very real, possible solution to some of our biggest questions — has never been more relevant.

Latest Arkansas Business Poll
Do you approve of the president taking executive action on immigration?