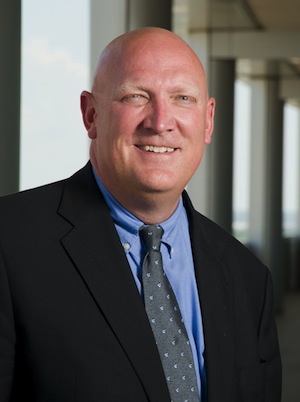 Scott Howe, CEO of Acxiom Corp. of Little Rock.
The New York Times has taken note of Acxiom Corp. of Little Rock, the data services firm that mines online and offline data for clients in industries including banking, finance, retail and automotive.
In a major profile on Sunday, the newspaper calls Acxiom a "quiet giant," and examines the privacy issues that come with operating a major data collection effort that generated revenue of $1.13 billion in the company's last fiscal year.
Data collection on this scale isn't terribly surprising. But the Times says there are things Acxiom's doing that set it apart from competitors:
... Acxiom, analysts say, is pursuing far more comprehensive techniques in an effort to influence consumer decisions. It is integrating what it knows about our offline, online and even mobile selves, creating in-depth behavior portraits in pixilated detail. Its executives have called this approach a "360-degree view" on consumers.

"There's a lot of players in the digital space trying the same thing," says Mark Zgutowicz, a Piper Jaffray analyst. "But Acxiom's advantage is they have a database of offline information that they have been collecting for 40 years and can leverage that expertise in the digital world."
Also noted: Acxiom's aggressive build-up of some prominent brain power, in the form of new executives from companies like Google, Microsoft, Electronic Arts and MySpace. About a year since new CEO Scott Howe has come aboard, this is a company on the move, and people are taking notice.

Latest Arkansas Business Poll
Do you approve of Gov. Hutchinson's plan to deal with health care?