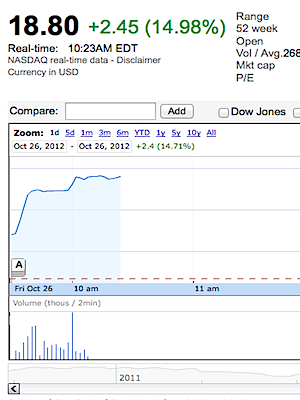 Shares of Acxiom Corp. of Little Rock are on the rise after the data services company's second-quarter earnings on Thursday.
Investors in Acxiom Corp. of Little Rock are sending shares of the data services firm up more than 14 percent in trading on Friday, the morning after the company reported a 34 percent increase in second-quarter profit.
About an hour into trading, shares of Acxiom (Nasdaq: ACXM) were up 14 percent to $18.67. That's on the high side of its 52-week range, which has veered from $10.95 to $18.99.
On Thursday, Acxiom reported quarterly profit of $16.5 million, an improvement over of the $12.3 million it reported in the same quarter last year. This, despite a 3 percent drop in revenue, which came in at $277 million. On both an earnings-per-share and quarterly revenue basis, Acxiom beat average analyst estimates. It's the fourth consecutive quarter that's happened.
Acxiom's stock has been on an upward swing since August, after the company announced hiring CEO Scott Howe in July. Howe has promised to refocus the company, which mines data on consumers for clients in the retail and financial services businesses. Howe's also made some big hires, adding executives who have worked for companies like Google, Electronic Arts and MySpace. Howe himself once worked for Microsoft.
Update: Acxiom shares closed at $18.39 per share, up about 12.5 percent.

Latest Arkansas Business Poll
Do you approve of the president taking executive action on immigration?