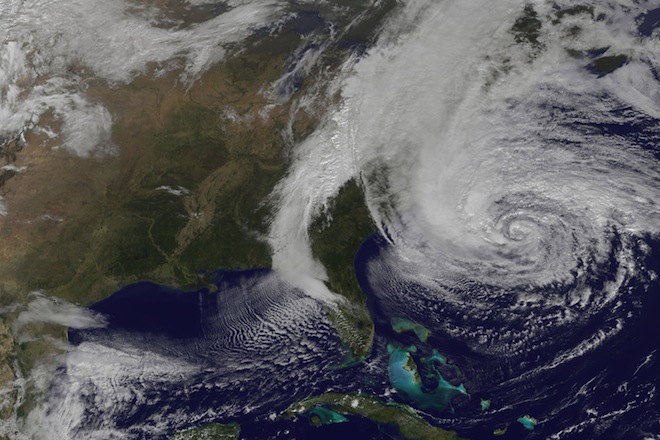 Hurricane Sandy, seen in this photograph by NASA.
Hurricane Sandy has already closed schools and public transportation routes and completely closed the trading floor on Wall Street in New York. She's now causing a delay in several publicly traded companies issuing quarterly earnings.
Entergy Corp. of New Orleans is among several companies announcing they will postpone earnings as the hurricane comes ashore. Entergy will now report results on Nov. 5 instead of tomorrow.
Other companies delaying their announcements, according to The Associated Press:
Biopharmaceutical Acorda Therapeutics Inc. will report results on Wednesday instead of Tuesday.
Maintenance products distributor MSC Industrial Direct Co. will report results on Wednesday instead of Tuesday.
Mortgage insurer Radian Group Inc. will report earnings on Thursday instead of Tuesday.
Rudolph Technologies Inc., a provider of process characterization equipment and software for wafer fabs and advanced packaging facilities, will report results on Wednesday instead of Monday.
Satellite radio provider Sirius XM Radio Inc. will report earnings on Thursday instead of Tuesday.
Commercial mortgage real estate investment trust Apollo Commercial Real Estate Finance Inc. will report on Thursday instead of Tuesday.
Office Depot Inc. will report on Nov. 6 instead of Tuesday.
Two Arkansas-based companies are set to report this week: Arkansas Best Corp. of Fort Smith tomorrow and Murphy Oil Corp. of El Dorado on Wednesday. (Update: Arkansas Best has delayed.)
The New York Stock Exchange, Nasdaq and CME Group in Chicago are now completely closed today and could will remain closed on Tuesday. The AP notes that trading on the NYSE was last closed on Sept. 11, 2001, and last closed for a weather related event in 1985, for Hurricane Gloria.
If the exchange does remain closed tomorrow, it would It will be the first weather-related consecutive-day closing since 1888, when a blizzard left drifts of snow as high as 40 feet.
Meanwhile, the Labor Department hints that it could delay Friday's October jobs report. The Wall Street Journal said the department will assess the schedule for all its data releases this week after the weather emergency ends.

Latest Arkansas Business Poll
Do you approve of the president taking executive action on immigration?