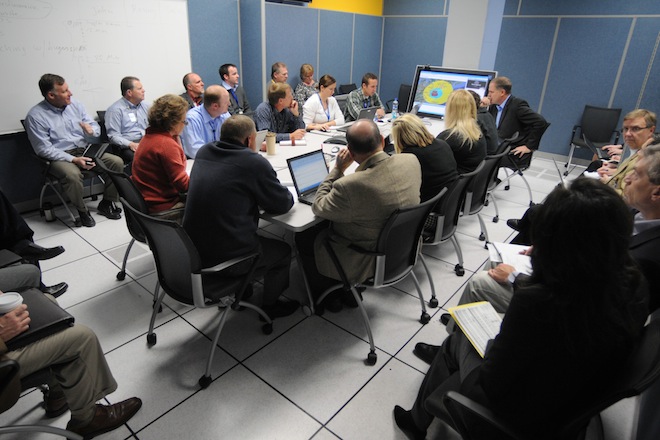 Wal-Mart Stores Inc. employees hold an emergency meeting about Hurricane Sandy at the company's headquarters in Bentonville last October.
Like everyone else in the northeast recovering from Hurricane Sandy, Wal-Mart Stores Inc. of Bentonville is working hard to put things together and get back to business.
On its website today, the world's largest retail says that only 14 of its stores remain closed after the storms, down from a peak of 294 discount stores, Sam's Clubs and distribution centers throughout the region. Right now, eight stores are closed in New Jersey, four in Pennsylvania and one in New York.
Quickly reopening stores has its obvious upsides. As the Wall Street Journal notes, Wal-Mart and its big-box competitors will be well positioned to capitalize on the cleanup as people pour into store for food, tools and other supplies.
Wal-Mart also mobilized its famously efficient logistics system to make sure stores had the right kind of merchandise:
Thousands of truck drivers, perhaps the most important cog in Wal-Mart's supply chain, spent the past few days crisscrossing the Northeast to get food, water and other supplies from massive distribution centers into super centers.

"We kick into emergency mode," said Wal-Mart driver Rich Appel, 50 years old, who was parked outside of a Wal-Mart in northeast Maryland on Wednesday in the middle of a 14-hour shift. "There's loads of rain, store managers are anxious asking us when their next shipment of water is coming in. But we know it's up to us to get water and other supplies to the stores and customers as fast as possible."

Latest Arkansas Business Poll
Do you approve of Gov. Hutchinson's plan to deal with health care?