11/2/2012 10:59 am
Updated 2 years ago
Comments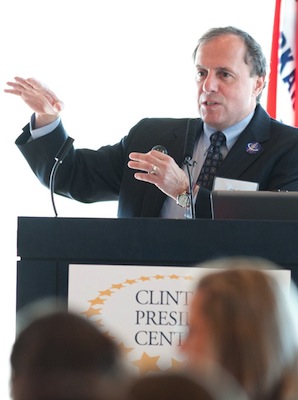 Chris Vavares, senior managing director and co-founder of Macroeconomic Advisors in St. Louis.
While we focused mainly on Michael Pakko's Arkansas economic forecast, there were some other Arkansas-related notes from economist Chris Varvares' national outlook we wanted to toss out there.
Among them:
Bankers nationwide are loosening up and consumers are taking advantage. Varvares notes that there seems to be more appetite among consumers to take on installment loans, and bankers are willing to extend those opportunities to those who qualitify. Terms on some loans are also less restrictive than they have been.
U.S. homeowners now have the capacity to once again take on more debt. Among other places, this is revealed in a decline in the personal savings rate. People are starting to save less, which flies in the face of "the new normal" meme that some thought would change how people spend.
We're seeing a significant rise in home prices. "Housing is now surprisingly upside," Vavares said, which is reflected in the rising pace of household formation and prices. "I'm confident there's a 'boom' out there somewhere," he said. Nationally and in Arkansas, home prices are rising, and evidence supports that we've seen the bottom.
Natural gas is a "game changer." Because of it, "by 2025 we have a real shot at being energy independent," he said. This is particularly notable in Arkansas, where our mini-natural gas boom has leveled off. But Vavares sees opportunities for the natural gas price decline to provide a cost advantage in the manufacturing of plastics. Meanwhile, companies like FedEx are investing more in compressed national gas conversions in their fleet of trucks.
The drug violence in Mexico is indirectly benefiting the U.S. economy. Put simply, manufacturers are second-guessing investing in Mexican plants and could send jobs to the U.S.
Varvares foresees the national unemployment rate down to 7.2 percent by the fourth quarter of 2014.
Inflation will remain contained below 2 percent.
Varvares forecast GDP growth of 1.6 percent for the rest of 2012, growth 3.2 percent for 2013 and 3.5 percent in 2014.

Latest Arkansas Business Poll
Do you approve of Gov. Hutchinson's plan to deal with health care?