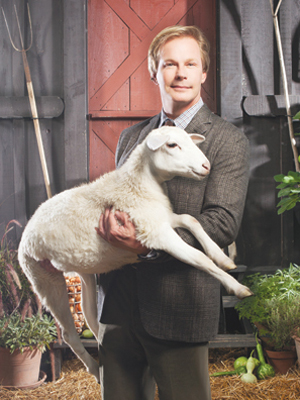 P. Allen Smith, as seen in the September edition of Little Rock Soirée.
YouTube is renewing last year's original content deals with media brands and celebrities. Among those waiting to see if they'll get another go-around is Arkansas' P. Allen Smith.
Smith's home and garden programming is part of the eHow Home channel on YouTube, which debuted early last year. eHow Home was among the first batch of brands to take part in YouTube's original content initiative, which aims to produce 25 hours of original content daily on the massive online video network.
Other media brands include The Onion, Pitchfork TV, Reuters TV, the WSJ Digital Network, Machinima Prime, Fuse and WWE Fan Nation.
Smith's videos includes segments filmed at his 567-acre Moss Mountain Farm, 20 minutes northwest of Pinnacle Mountain in central Arkansas. One video series, "P. Allen's Garden Home Challenge," tracked Smith and his colleagues as they built a 1,600-SF environmentally friendly home for $150,000 in 150 days.
On Monday, Smith's spokeswoman Mimi San Pedro said they didn't know yet whether the contract had been renewed, but she said Smith's YouTube programming will continue regardless. Smith had been providing his own YouTube content even before the deal with eHow.
She said the videos have performed "very well."
"Since the February 2012 launch, our numbers have steadily increased. Today we have 35,000-plus subscribers and 10.8 million-plus views in our eHow Home & Garden channel and have been in a leadership position in this category most of 2012 and still [are]," she said. "Our assignment is to draw women 35-plus to YouTube, and we are accomplishing that."
San Pedro said that demographic is "the sweet spot for advertisers," and that YouTube's goal is to compete with broadcast media for those dollars.
According to AllThingsD, YouTube is handling contact renewals in batches. And the new deals are similar to what what the Google-owned site set up last year, where programmers received advances of up to $5 million to produce exclusive videos. But YouTube has about 60 percent of its deals will not be renewed.
So what's the criteria for renewals?
Jamie Byrne, YouTube's director of content strategy, says the site is most concerned about engagement — primarily the total "watch time" a channel has generated — and cost — how efficient programmers have been with their programming budget.
Below, check out video of Day 150 of Smith's "Garden Home Challenge."

Latest Arkansas Business Poll
Do you approve of the president taking executive action on immigration?