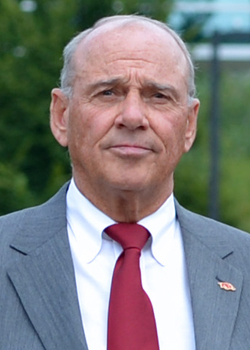 Arkansas head football coach John L. Smith
No official word has come on John L. Smith's status as Arkansas football coach.
While the Razorbacks' 4-6 record this season, Smith's $40 million bankruptcy [detailed by Mark Friedman of Arkansas Business] and Athletic Director Jeff Long's work behind the scenes to land potential coaching candidates would suggest that Smith is finished in Fayetteville, there has been no formal announcement regarding his future employment. Long hasn't commented publicly on Smith beyond saying last month the results on the field would make the decision obvious.
It seems the writing is on the wall for Smith, who is making $850,000. He took over a team ranked in the Top 10, but has overseen what ranks among the most disappointing years in Razorback history.
But Smith, when asked by reporter about his tenure, said he hasn't given up hope that he can stay in Fayetteville beyond the 2012 season.

"I'm the most optimistic guy you could imagine," Smith told reporters during his weekly Monday press conference. "So I'm always optimistic. I'm optimistic on us going to Starkville and getting a win this weekend. The other stuff can take care of itself. I'm not overly worried about any of that."
Smith, asked by a reporter if he'd begun to reflect on his career or time spent on the job at Arkansas, said he had not. He's focused only on rounding out the season, which ends Nov. 23 in Fayetteville against LSU. Win the next two games and Arkansas could finish 6-6 and have the opportunity to play in a bowl game.
"No. That's way over my head, mentally," Smith said. "I have trouble just concentrating on today and this part of our season and where we are. I'm going to love every day that we go do the practice field, because that's the best part of my day, and being around those guys is what it's all about. And thank God I've had the opportunity to do that.
"I'm just knocking on wood, stretch it as far as we want or as far as we can."
Don't count on Smith's run stretching far beyond the season finale. Long has said he wants to have a new coach in place within two weeks of the final game.
Previously: Former Arkansas Coach Bobby Petrino wants to coach in Kentucky, according to his dad.

Latest Arkansas Business Poll
Do you approve of Gov. Hutchinson's plan to deal with health care?