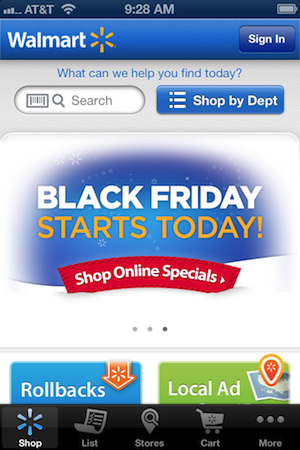 A look at Wal-Mart's app for iOS, which promotes this week's Black Friday deals.
It's probably about time those of us dinosaurs who grew up with rotary dials and one Saturday morning of cartoons per week (now every other movie is a cartoon...) raised the white flag.
Flying cars notwithstanding, we've officially transitioned from Flintstones to Jetsons. Wal-Mart is launching a mobile app this holiday season that'll enable in-store shoppers to shop with their smartphones. Wait a minute, you say. What? What seems like a head scratcher at first actually makes sense. Here's more from Paul Sloan of CNET:
The challenges facing brick-and-mortar stores are only growing as online shopping moves from the desktop to smartphones. People look up prices online while they're inside a store. They make purchases from an online store unconnected to the store where they're roaming the aisles. The list goes on.

This is why Walmart -- a company known far more for its data mining and supply chain mastery than for its mobile apps -- is going all out with mobile. The idea is not to make it an either/or option; instead, Walmart's apps cater to people who are first and foremost shopping inside a Walmart store...

If you opt in, Walmart will use your location to provide you with an app designed specifically for that store. Head to another Walmart and your app will work for that store. It has useful features: You can make a list by speaking into the phone. You can search a product by typing in a word or phrase -- tissues, say, or light bulbs -- and the app will show you what aisle to go to. It has an interactive map. It shows you promotions specific to that store. And Walmart is testing a feature called "Scan & Go" that would scan items as you shop, so you can go quickly through self-checkout.
Indeed, shopping has been transforming right before our eyes for quite a while now. Wal-Mart's "in-store" app is available on iPhones and coming soon to Android. Wal-Mart says two weeks after it launched its in-store app, 60 percent of mobile customers opted in, and 12 percent of all online sales since have come from in-store customers who opted into "in-store mode" on their phones. And, it expects 40 percent of its online traffic this Christmas to come from mobile.
Ladies and gentlemen, the next step.
For those of us who feel like we've entered a giant house of mirrors when we go to Wal-Mart, that aisle finder feature is a home run. (Kroger, we're looking at you.)
OK, so maybe we can embrace a little more tech. Now, pass the in-store shopping app and the skinny jeans. We're in. (On second thought, hold the skinny jeans.)

Latest Arkansas Business Poll
Do you approve of the president taking executive action on immigration?