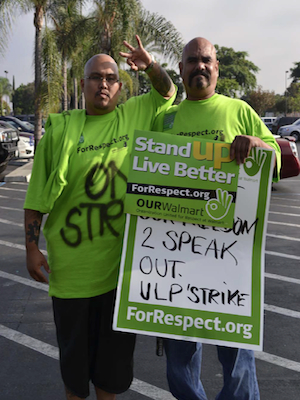 OUR Wal-Mart protestors.
As Black Friday approaches, so too does the threat of employee walk-outs and protests against Wal-Mart Stores Inc. of Bentonville, the world's largest retailer, by the United Food and Commercial Workers International Union and union-backed OUR Wal-Mart.
Wal-Mart had hoped to get an injunction to stop the protests, but the National Labor Relations Board says today that it likely won't make any ruling before Thursday:
Nancy Cleeland, a spokeswoman at the NLRB, said Monday that the board aimed to move quickly to assess the merit of Wal-Mart's complaint since it involved charges of illegal picketing. If the labor board decides in Wal-Mart's favor, the matter still must go to district court.

"The legal issues — including questions about what constitutes picketing and whether the activity was aimed at gaining recognition for the union — are complex," said Cleeland in a statement. She said that the agency had staff members at Wal-Mart headquarters on Monday to take affidavits. It's also in touch with the UFCW.

"We appreciate the urgency demonstrated by the NLRB in undertaking its review," said Dan Fogleman, a Wal-Mart spokesman in a statement. "We understand that the multi-state, multi-faceted nature of the union's conduct and the board's desire to perform a thorough review of the facts means that a decision will take a bit more time."
OUR Wal-Mart is keeping a running list of where these walk-outs and protests are supposed to happen on Friday -- you can see the list of events, 19 so far, here. Not surprisingly, none of the events are scheduled in Wal-Mart's home state.
And, as the Arkansas Times points out today, someone supporting Wal-Mart workers having a little fun with Crystal Bridges Museum of American Art, the Bentonville museum founded by Wal-Mart heiress Alice Walton. They've spoofed the museum's web page, making it appear as if Crystal Bridges will close Friday in support of Wal-Mart workers.

Latest Arkansas Business Poll
Do you approve of the president taking executive action on immigration?