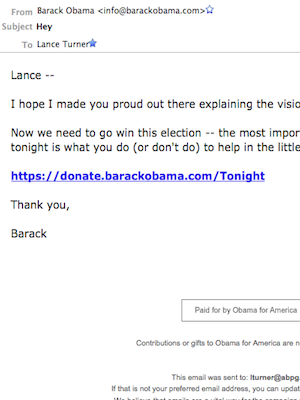 Hey, it's your pal Obama! How's it going? How 'bout a donation? If not, that's cool too.
Bloomberg Businessweek examines those strangely subject-lined Obama campaign fundraising e-mails, and finds how much one hauled in.
If you were on the mailing list*, you certainly remember them. One particularly noteworthy -- and Drudged -- e-mail came with the subject line, "I will be outspent."
It raised $2.6 million.
Other subject lines included, "Join me for dinner?", "It's officially over," "It doesn't have to be this way," and even "Hey," which campaign e-mail director Toby Fallsgraff tells the magazine was probably the best one of the series.
Go figure.
Inside the science of fundraising and e-mail subject lines, right here.
*It should go without saying, but I'll say it anyway: I'm was on the list because I'm a journalist who signed up for everything I could get from all the presidential campaigns. And I'm a glutton for punishment. But I did not, and do not, give money to any political campaign ever.

Latest Arkansas Business Poll
Do you approve of Gov. Hutchinson's plan to deal with health care?