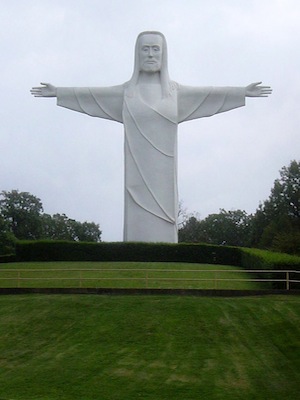 The Christ of the Ozarks statue, on the grounds of the Great Passion Play in Eureka Springs.
The Great Passion Play in Eureka Springs, which in September called for donations to help keep its doors open, is closing permanently, according to a report today in the Lovely County Citizen:
President and CEO of Cornerstone Bank Charles T. Cross confirmed on Monday that Eureka Springs' Great Passion Play will be turning everything over to the bank in the next few days in what he described as an "amicable foreclosure," and the play is now closed for good.
In September, the play's executive director, Sam Ray, said the nonprofit tourist draw needed about $500,000 to keep the doors open. He said tourism dipped during tough economic times, and he asked for donations and for people to come see the show.
There's no official figure on just how much the play owes, but the Citizen cites several anonymous sources that put the figure at about "$1.2 million on which it cannot afford the mortgage payments."
The play portrays the last few days of Jesus Christ's life with a dramatic cast and live donkeys, camel and sheep. Its grounds also include a portion of the Berlin Wall and the 65-ft. Christ of the Ozarks statue, built in 1966.

Latest Arkansas Business Poll
Do you approve of Gov. Hutchinson's plan to deal with health care?