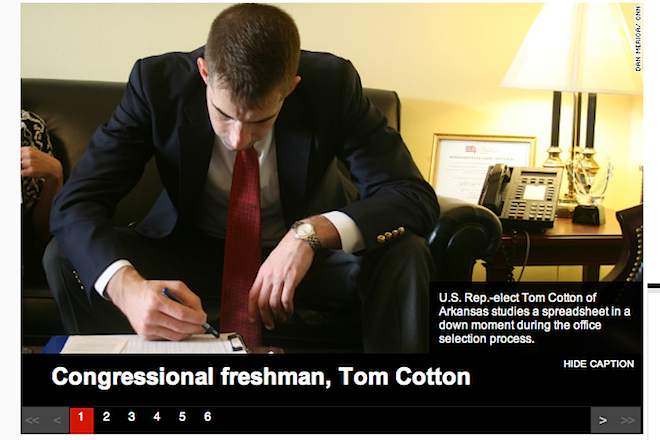 Tom Cotton, as profiled by CNN.
CNN spent the day with freshman U.S. Rep. Tom Cotton, R-Ark., as the incoming legislator meticulously made preparations to choose his first House office.
And when we say meticulous, we're not exaggerating. There are spreadsheets involved:
But Republican Congressman-elect Tom Cotton of Arkansas sits quietly, hunched over in his chair, looking at a mix of maps and papers he has assembled -- all aimed to optimize the search process. Each available office is listed on a spreadsheet in front of him which is just waiting to be scrawled on.

...

Cotton has devised a rating system and applied it to his spreadsheet. The offices will be rated from one to four on a number of factors -- size of the office, availability for a conference room and view. It is also important that the office be close to Rayburn -- a building considered the power center of the House, due to the powerful lawmakers who have officers there and the number of committee rooms inside.

Cotton, 35, is looking for the perfect office -- down to the color of the walls and drapes -- even though these bottom of the barrel selections are unlikely to meet all of his expectations.
One might think that a journalist preparing a 1,700-word piece on a freshman representative might view this otherwise humdrum scenario as the perfect metaphor through which to view a promising political career that hasn't quite yet begun. And if you think that, you'd be right!
Cotton's office search speaks volumes about the path that brought him to Congress -- and possibly the legislator he may become.
And on from there. Still, a nice profile for Cotton, now about to hold his first elected office. Read the whole thing, and see a slideshow of photos, right here.

Latest Arkansas Business Poll
Do you approve of Gov. Hutchinson's plan to deal with health care?