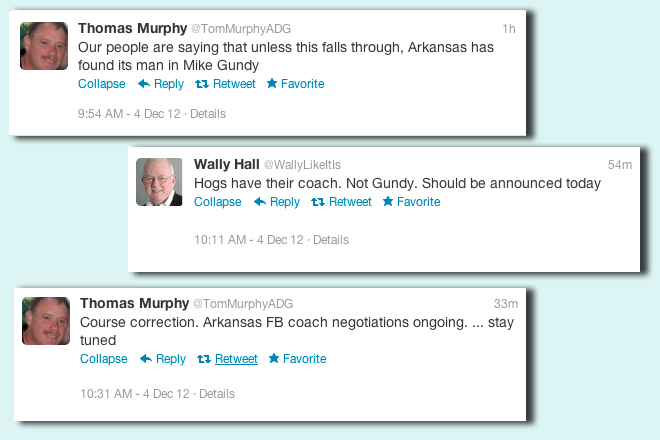 Coaching searches are one of the more challenging stories for sports journalists to cover.
It can be a complicated and messy process trying to filter through what's real and what isn't. Credible information can be hard to come by, and sources often have agendas behind what they are willing to reveal.
Which is how you wind up with this from the search for an Arkansas football coach:
At 11:54 a.m. on Tuesday a message was posted to Twitter from Arkansas Democrat-Gazette beat reporter Tom Murphy (among other local writers) that suggested Oklahoma State Coach Mike Gundy was the guy for the Razorbacks: "Our people are saying that unless this falls through, Arkansas has found its man in Mike Gundy."
At 12:11 p.m. a message was posted to Twitter from Arkansas Democrat-Gazette columnist "Hogs have their coach. Not Gundy. Should be announced today"
Here you have two well-connected writers from the same outlet with conflicting information.
So what's really happening in the search to replace John L. Smith, who replaced Bobby Petrino?
We're led to believe that Gundy is not a done deal, though he has been among the five to six coaches Jeff Long was considering for the position. There is another candidate Arkansas is close to landing.
Who is the guy?
We'll keep you posted. As soon as we work through all the clutter and conflicting information.

Latest Arkansas Business Poll
Do you approve of the president taking executive action on immigration?