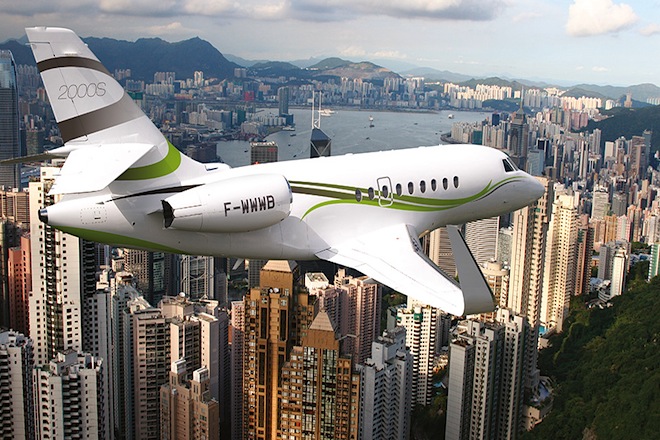 Dassault Falcon Jet's Falcon 2000S, flying over Shanghai.
Of the two major aviation companies working at Adams Field in Little Rock, more attention lately has been focused on Hawker Beechcraft, now another step closer to exiting Chapter 11 bankruptcy as it plans to close its completions center here.
But Dassault Aviation's Dassault Falcon Jet, whose Little Rock facility is Arkansas' largest aerospace operation (PDF), is also making headlines. The company, which employs about 1,700 workers at Adams Field, says its seeing demand for its private jets recovering throughout the Middle East, thanks to globalization and large regional operators.
According to Global Travel Industry News,
Plans call for Dassault to deliver six Falcons to Middle East customers over the next 18 months, growing its fleet by 10%. More than 60 Falcon business jets already operate in the region.

"The Middle East business jet market and its infrastructure are continuing to mature," said John Rosanvallon, President and CEO of Dassault Falcon. "This is due, in part, to increased globalization but also to the development of larger operators and world class facilities such as the Al Maktoum International Airport."

Dassault Falcon will present its range of business jet offerings at the Middle East Business Aviation (MEBA) event, from 11-13 December 2012. A Falcon 7X, Falcon 900LX and Falcon 2000S will be displayed at Dubai World Central.
The news site said the company is expanding its Middle East sales and support operations. It has the Dubai office, as well as its Authorized Service Centers in Dubai and Jeddah, a distribution center in Dubai and a technical office in Jeddah.
But that's just one area where the company, which is marking its 40th anniversary this year, is spreading its wings. Late last month, the company announced a new subsidiary, Dassault Falcon Business Services (Beijing) Co., in China. Now, in addition to its existing officies in Beijing and Hong Kong, the company has opened new offices in Shanghai and plans additional sites in the capital city.
And the pipeline is looking good:
Dassault said the number of Falcons operating in China will triple before the end of this year, growing from eight in early January to about two dozen by the end of next month. The company also has an order backlog for 20 Falcon 7Xs from Chinese customers.

Latest Arkansas Business Poll
Do you approve of Gov. Hutchinson's plan to deal with health care?