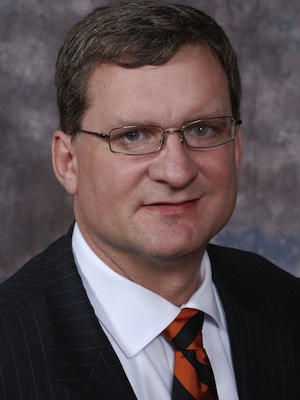 Timothy Cloyd, president of Hendrix College in Conway.
The Chronicle of Higher Education has released its lists of the nation's highest-paid public and private college and university presidents, and takes a special look at the perks private college leaders receive.
Let's get this out of the way first: Hendrix College President Timothy J. Cloyd is the top-paid private college president, according to the Chronicle's list, which is based on compensation doled out in 2010 and comprises 493 presidents at colleges with budgets exceeding $50 million.
(You can view the complete list here, or just the Arkansas list here).
Cloyd receives total compensation of $348,084, the Chronicle says. That places the Conway college president 299th in the nation.
Other Arkansans on the list are:
Charles Pollard, John Brown University of Siloam Springs, at $299,482 (No. 355 in the country)
David B. Burks, Harding University of Searcy, at $261,827 (No. 403)
Rex M. Horne Jr., Ouachita Baptist University of Arkadelphia, at $216,504 (No. 424)
(You might remember that last year, Cloyd showed up on the 2009 list in the top 10, with more than $1 million. But that was an anomaly, because that year Cloyd collected more than $700,000 from eight years of contributions and earnings from a deferred-compensation plan.)
So who's the top dog in the nation in 2010? That'd be Bob Kerrey, who earned $3 million as president of the New School in New York City. Kerrey, who was governor of Nebraska from 1983 to 1987 and a U.S. senator from 1989 to 2001, became president emeritus in 2011.
According to the Chronicle, 36 private-college presidents earned more than $1 million in 2010. We'll note that Arkansas private college presidents earn less than the median compensation, which was $396,649. That figure was a 2.8 percent increase over 2009.
The Chronicle also lists the highest-paid public college leaders, but the list is locked down to subscribers. Arkansas Business readers probably have a pretty good idea of who's on that list.

Latest Arkansas Business Poll
Do you approve of the president taking executive action on immigration?