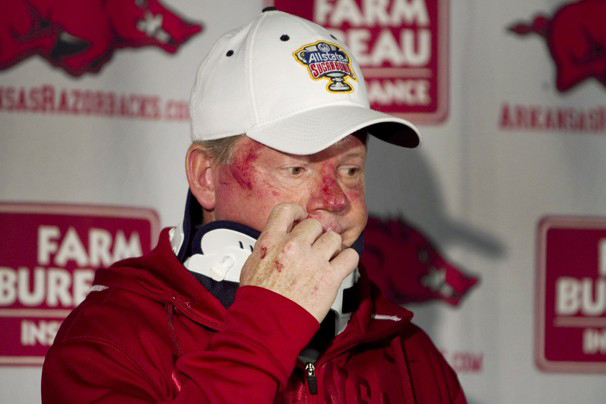 Arkansas fired Bobby Petrino in April.


Bobby Petrino has a new job.
Petrino, who was fired at Arkansas on April 10, will be announced as Western Kentucky's coach today at 4 p.m., according to multiple reports. Arkansas fired Petrino with cause following a review of the coach's relationship with staff employee Jessica Dorrell and his efforts to mislead the university about hiring her over 150-plus other applicants and paying her a $20,000 cash.
Dorrell and Petrino were involved in an April 1 motorcycle accident that exposed their relationship.
Athletic Director Jeff Long said Petrino engaged in "a pattern of misleading and manipulative behavior," which led to his dismissal. Petrino was making $3.56 million annually with the Razorbacks.
Petrino will make $850,000 per year and his deal is for four years, according to WKU beat reporter Chad Bishop of the Bowling Green Daily News. Willie Taggart, his predecessor at WKU, was making $475,000 annually. Taggart was recently hired at South Florida.
Petrino was reportedly a candidate at Arkansas State.

Latest Arkansas Business Poll
Do you approve of Gov. Hutchinson's plan to deal with health care?