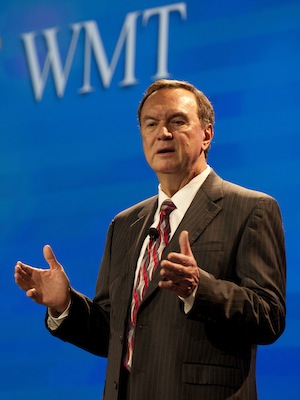 Wal-Mart CEO Mike Duke, speaking at an investor conference in October in Rogers.
Wal-Mart Stores Inc. CEO Mike Duke spoke last night at a Council on Foreign Relations event in New York City.
The headline topic, reported most places today, is Duke's comments on the "fiscal cliff." Duke says Wal-Mart's core customers are now very much aware of that potent mix of tax increases and spending cuts that could take place at the first of the year barring any action by Congress and the White House.
Duke says Wal-Mart conducts significant amounts of customer research and polling. And from that data, as well as information from the retailer's thousands of U.S. stores, the company is able to gather all kinds of insights about buying patterns and consumer sentiment.
According to Duke:
The customer is still fragile. And this economic recovery is still very very close. We've seen some positive signs with the information from consumers, but the positivite signs have been very muted. The customers are still working to get by month to month, paycheck to paycheck.
Talking specifically about the fiscal cliff, Duke notes how awareness of the cliff has grown even since the election:
The week before the election, only one-fourth -- 25 percent -- of our core customers even knew what fiscal cliff meant. One week after the election, it was up to 75 percent. Now, these same customers -- 15 percent of our customers are telling us this discussion about the fiscal cliff will affect what they spend at Christmas.
Duke also weighed in on other topics, including that deadly November fire at a factory in Bangladesh being used by a Wal-Mart supplier. Wal-Mart has since stopped doing business with the supplier, and says the retailer has been working for years to make factories throughout the world safer. (You can read more about what Wal-Mart and other retailers are doing about foreign factory safety here.)
And he touched on the ongoing bribery and foreign corrupt practices investigation the retailer is conducting. Duke said Wal-Mart uses such experiences to become a better company, and he said the company will take appropriate action once the investigations are concluded.
And finally there was this fun bit of trivia: Wal-Mart today is now 12 times the size it was in 1992, the the last year of founder Sam Walton's life.
You can hear Duke's complete remarks to the Council of Foreign Relations right here.

Latest Arkansas Business Poll
Do you approve of Gov. Hutchinson's plan to deal with health care?