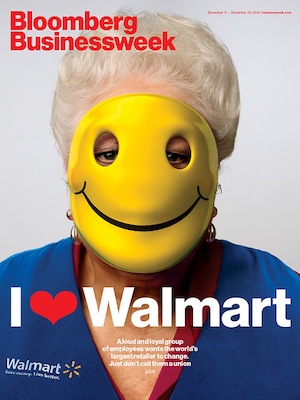 Businessweek's OUR Wal-Mart cover, via Richard Turley's Tumblr.
Bloomberg Businessweek taking a long look at OUR Wal-Mart, a group of employees that staged Black Friday demonstrations against the world's largest retailer and its labor practices.
The magazine hits newsstands Monday, but the cover package is already available online right here.
We noted the protests in the run-up to the Black Friday holiday shopping weekend.
Accounts of the protests' numbers vary -- Businessweek says demonstrations took place at about 1,000 stores across the country, with "several hundred" showing up at a store in Hanover, Md.
Whatever the numbers, members of OUR Wal-Mart think their organization constitutes a different form of protest than we've seen in previous labor bouts with the retailer:
Walmart has survived labor fights before. But Murray and a core group of about 100 employees—along with the largest union of retail employees in the country and a branding firm founded by a top adviser to President Obama—are the architects of what may prove to be the most potent challenge yet. Crucially, the thousands of associates who have joined OUR Walmart say they're not agitating for legal recognition or collective bargaining rights; unlike previous efforts, they're not trying to unionize. They say they want to make Walmart a better place to work and shop. "It's a cause that affects every American," says Murray.
The piece also notes Wal-Mart CEO Mike Duke's comments Tuesday night during an appearance at the Council on Foreign Relations, which we noted here in a post that contains a link to an audio file of his remarks. Duke dismissed the idea that there's rift between management and employees. "The characterization is not always accurate," he said. "This tension for me is not a tension."
Businessweek's full article is available here.

Latest Arkansas Business Poll
Do you approve of the president taking executive action on immigration?