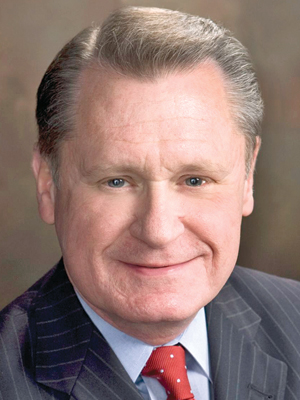 UA Chancellor G. David Gearhart
I'll note today a special column in the Arkansas Democrat-Gazette by University of Arkansas Chancellor G. David Gearhart, expressing his disappointment in the newspaper's editorials on Dec. 6 and 11, available only to DG subscribers here and here, on the UA Advancement Office budget shortfall -- a story Arkansas Business first reported on Dec. 3.
"The editorials have been particularly mean-spirited and distorted the very facts that the newspaper itself reported," Gearhart says in the column (again, subscribers only).
Among Gearhart's greivances is the DG's assertion that the UA had been trying to keep the shortfall situation and fallout "very, very quiet." Gearhart says he made considered efforts to be transparent, including issuing "a lengthy public announcement about this situation, which was shared on the university's website and emailed to hundreds of alumni leaders, benefactors, friends and volunteers."
What Gearhart doesn't acknowledge is the months-long effort to keep the mess confidential, which of course was foiled by Chris Bahn of Arkansas Business, who broke the advancement story, prompting Gearhart's "lengthy public announcement."
Gearhart, of course, was in front of legislators on Friday defending how he's handled the situation, particularly regarding Brad Choate, the vice chancellor of advancement who makes $348,000 per year, and Joy Sharp, Choate's budget officer whose salary was $91,000.
Gearhart has moved Choate out of advancement and said he won't renew Choate's appointment at the end of the fiscal year. But Choate is keeping his $348,000 salary until June 30, while Sharp has had her pay docked to $68,000.
"Out in the real world, this kind of activity would get you fired yesterday," Sen. Jimmy Jeffress, D-Crossett, told Gearthart on Friday.
And that's exactly the point Arkansas Business editor Gwen Moritz raised in a conversation with Gearhart during the week before Arkansas Business broke the advancement story, and in a column here on Dec. 10:
I personally talked to Chancellor David Gearhart about this financial mess, and he seems to think that Choate relied too heavily on the advice of a subordinate and that losing his job many well-paid months hence is enough punishment. After all, Gearhart said, there was no misappropriation of funds, no theft, no personal gain.

In my world, I told Gearhart, one need not commit a felony to be judged so incompetent as to be fired on the spot. But my world is not academia, where I'm starting to understand why costs keep inflating far faster than the general cost of living. In the real world, people who are making a fraction of Choate's pay are routinely fired for performance failures much more minor than being so clueless as to accidentally overcommit to millions of dollars of perpetual spending.
And speaking of Moritz, she has a letter to the editor in the DG today (DG subscribers only), airing her own grievances with the DG's Dec. 11 editorial, which left readers with the impression that it was the statewide daily's UA beat reporter -- and not Bahn of Arkansas Business -- who first broke the UA advancement story:
As editor of Arkansas Business, I know that it is not unethical for a newspaper to follow someone else's scoop without acknowledging being beaten on it. But it really crosses a line to leave readers with the impression that a reporter who has been beaten on her own beat has been "on it like white on rice."

Latest Arkansas Business Poll
Do you approve of Gov. Hutchinson's plan to deal with health care?