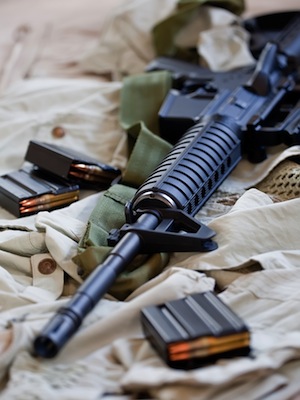 An AR-15 rifle.
Speaking of Sandy Hook, Bloomberg is reporting that Wal-Mart's selection of semi-automatic rifles is out of stock today, and that the world's largest retailer has said it will continue to sell guns, even as other retailers like Dick's Sporting Goods has pulled them from its shelves:
"We remain dedicated to the safe and responsible sale of firearms in areas of the country where they are sold," David Tovar, a spokesman for Wal-Mart, said yesterday. He didn't immediately respond to a request for comment on this story.

Wal-Mart has about 10 modern sporting rifles, the gun industry's term for firearms that look like an M-16 military rifle, listed on its website.
Yesterday, The Nation, in a lengthy piece examining Wal-Mart's ammunition sales, noticed that the Bentonville-based retailer pulled the Bushmaster AR-15 -- the model used in the Sandy Hook killings -- from Walmart.com. (While Wal-Mart lists guns on its website, it doesn't sell them online, but refers customers to brick-and-motar stores.) Wal-Mart did comment for The Nation story.
You might recall that, in the 1990s, Wal-Mart curtailed gun sales, but began bringing them back last year as part of a concerted effort to restore "heritage" inventory, attract male shoppers and reverse a series of monthly same-store sales slumps.

Latest Arkansas Business Poll
Do you approve of Gov. Hutchinson's plan to deal with health care?