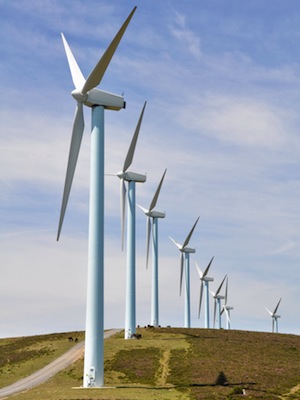 Fresh air: The wind energy tax credit extended.
You'll be reading a lot about what's right and wrong with the fiscal cliff deal Congress approved this week. One item of interest to some key Arkansas companies is the one-year extension of the wind energy Production Tax Credit (PTC) that was included in the deal.
Arkansas Business' energy reporter Luke Jones wrote in August about the uncertainty surrounding the extension of the credit and what it meant to Arkansas wind energy firms like LM Wind Power, which makes fiberglass wind turbine blades at its $150 million North American headquarters at the Port of Little Rock.
Last year, the Danish energy giant laid off more than 200 of its Little Rock workers, or about half of its state workforce. At the time, LM attributed the layoffs to a decrease in demand for its products as Congress failed to renew the tax credit, which would have expired Dec. 31.
Last night's action in the House, which approved the fiscal cliff deal, extends the credit for projects that begin in 2013.
The American Wind Energy Association says the extension will "save up to 37,000 jobs" and "revive business at nearly 500 manufacturing facilities across the country."

The extension of the wind energy Production Tax Credit (PTC), and Investment Tax Credits for community and offshore projects, will allow continued growth of the energy source that installed the most new electrical generating capacity in America last year, with factories or wind farms in all 50 states.

The version included in tonight's deal would cover all wind projects that start construction in 2013. Companies that manufacture wind turbines and install them sought that definition to allow for the 18-24 months it takes to develop a new wind farm.
Also: U.S. Rep. Tim Griffin, R-Ark., told Jones last year that he was in favor of a "temporary extension of the wind production tax credit that is phased out over time ..." Griffin would rather have focused on a "fundamental reform" of the entire U.S. tax system, "because Americans need a simpler, fairer and flatter tax code that encourages job creation and allows us to compete around the world." Griffin voted against the fiscal cliff package containing the wind tax credit.
U.S. Sen. John Boozman, R-Ark., was also in favor of the extension, but also advocated a temporary extension. "I do think that they don't go on forever," he told Jones. "I think we extend them over a period of time and then start to phase them out, but you don't pull the plug." Boozman voted for the fiscal cliff package.

Latest Arkansas Business Poll
Do you approve of the president taking executive action on immigration?