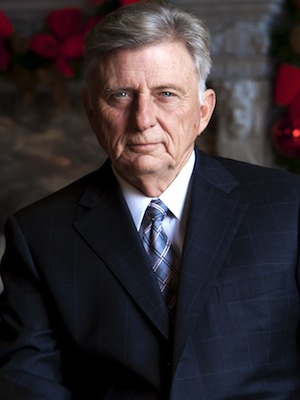 A Beebe lovefest at the PAC.
Mike Beebe: They like you, they really like you.
The governor's appearance at the first Political Animals Club meeting of 2013 Wednesday at the Governor's Mansion was at times an exercise in basic popular culture -- Beebe indeed is a rock star in this state, with his home team Democrats and Republicans alike.
Audience members were reminded that Republican House Speaker Davy Carter recently declared Beebe the state's best-ever governor; emcee Rex Nelson, formerly of the Huckabee administration and still of a reddish stripe, spoke of Beebe's effectiveness, and Beebe himself spoke of columnist John Brummett's assessment of Beebe as only the third-best Arkansas governor in history.
(Beebe humbly offered up George Donaghey and Dale Bumpers as the top two.)
And the audience liked what they heard. They gave Beebe three standing ovations. Of course, Wednesday's appearance was a home court gimme, the equivalent of Florida A&M in Bud Walton, but still. The man is popular.
Beebe spoke to the club, this year kicking off its third decade, as the luncheon keynote speaker and mostly turned it over to an extended Q&A with audience members, where he revealed that he'd sign a bill repealing the death penalty in Arkansas if it made it to his desk (of course, fat chance that'll happen).
The highlights:
Beebe said his position on the death penalty has evolved and began to do so the first time he signed a death warrant as governor. He's signed four, but no dealth penalties have been carried out in Arkansas in his term. He said in each case, he looked back over court dockets looking for an excuse not to sign but ultimately felt compelled to carry out the law. He called signing the warrants a heart-wrenching experience and one of the hardest things he's ever had to do.
Beebe, term-limited himself, remains opposed to term limits on the legislative level but is in favor of them for the executive branch (and he got in one heck of a good Nick Wilson jab to boot).
He's not in favor of armed volunteers in schools as an answer to the Newtown, Conn., mass murders, but would like to see an increase in trained, certified resource officers in schools.
Oh, and Beebe said he's loved being governor more than anything else he's done, calling it the best political job there is. Mainly, you know, because he gets the "best parking spaces"....
And let's not forget those raucous home crowds either.

Latest Arkansas Business Poll
Do you approve of Gov. Hutchinson's plan to deal with health care?