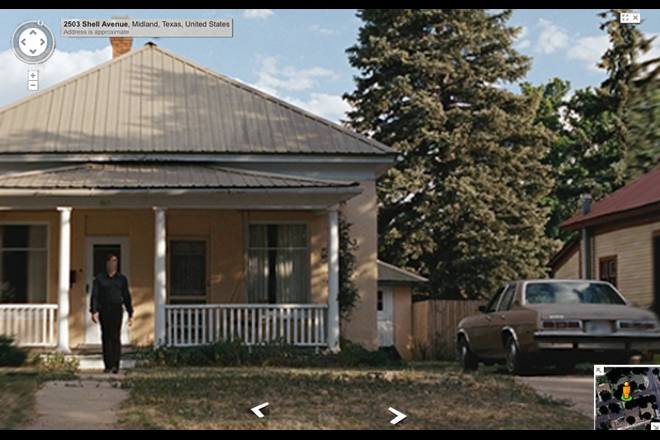 The sinister appears ordinary on Google Street Scene, such as this clip from No Country for Old Men, re-imagined in the context of Google's popular Street View feature.
Most of us roll out of bed, and it's another round of "same as it ever was." Then there's our own Tre Baker.
Tre is the assistant interactive editor for Arkansas Business Publishing Group. Consider him our cyber MacGuyver. Tre rolls out of bed and creates Tumblr blogs that become international sensations. His latest did just that, blowing up this week on Gawker, Entertainment Weekly and a couple of European sites.
What has them all a-ghast is Google Street Scene, in which Tre takes stills from famous movies such as GoodFellas and reimagines them as, well, Google street scenes. (Um, hey Google guy, Henry Hill is fixin' to come have a 'word'...)
Tre has another Tumblr blog very much worth checking out -- his true love and a real work of art for map geeks -- Close to the Borderline.
On Wednesday, a picture posted on a messageboard got Tre and some buddies discussing fake street views. Next thing he knows, Tre had created another Tumblr account -- Google Street Scene. That afternoon, Gawker came calling.
By Thursday afternoon, Tre had 100-plus followers on Tumblr, and Gawker had received 442 Facebook likes from its post about Tre's blog.
This week, Tre's been contacted by Daily Dot out of Austin, Shortlist of London, Spiegel of Germany and even EW.com. (Welcome, Tre, to The Show.)
The blog even made news in Flavorwire, was reposted by Huffington Post and tweeted by the British Film Institute.

Well done, Tre. You've taken mappers from geek to chic, and for that, we thank you.

Latest Arkansas Business Poll
Do you approve of Gov. Hutchinson's plan to deal with health care?