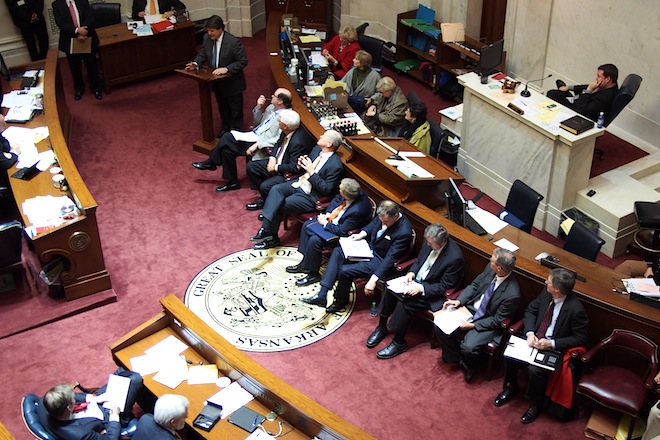 Arkansas Economic Development Commission Executive Director Grant Tennille (top left) meets with the Arkansas Senate on Monday. Senate members questioned Tennille and others on details about the Big River Steel project announced last week.
The Arkansas Senate conducted a "committee of the whole" session today to quiz Gov. Mike Beebe, Arkansas Economic Development Commission Executive Director Grant Tennille, and other parties involved in the $1.1 billion Big River Steel deal.
The two-and-half-hour session covered a range of topics, including how investor Arkansas Teacher Retirement System and its agent, Delta Trust and Bank, evaluated the plant and its prospects; and the strings attached to the $125 million in funds the state will leverage to help cover startup costs.
One thing is clear: AEDC is highly confident in ringleader John Correnti's ability to build the plant, get it running and have it producing steel at the necessary capacity to pay back what it will owe the state.
Here's some notes from today's session:
Tennille said the state structured to the longest clawback period ever negotiated: 15 years. In that time, AEDC can take back state money if Big River doesn't meet its promised employment level (525 workers), average salary ($75,000) and size of investment ($1.1 billion).
Tennille reiterated the other safeguards AEDC built into the deal: If the Legislature agrees to authorize the bonds, the state wouldn't sell them until Black River equity investors put $300 million of their own money in escrow and secure financing for the other $700 million. The company must spend $250 million of its own money on the project before spending the first $1 of state money.
Tennille said AEDC structured the safeguards to ensure the deal closes. He said the biggest risk is to the state's reputation; the state wouldn't want to sell the bonds only to have to call them back immediately.
Regarding Correnti's track record, which includes promises as-yet unfulfilled in Mississippi: Tennille notes that those cases involve plants outside Correnti's experience in steel, and that no state money was ever transferred. He says Correnti's track record in steel is proven, and that the AEDC feels "very good" about Big River's projections for the Arkansas plant and the market for its products.
John Shelnutt, the state's economic forecaster, said he's projected the state's investment on the plant to break even in four to six years -- four, in the case Big River pays off its loan early.
There was some concern by senators about Big River jobs going to people outside Arkansas. Tennille noted that even if workers commute from outside the state, they will still pay taxes in Arkansas.
Tennille said the investment in the project by the Koch brothers gave AEDC confidence in the deal. "They are obviously involved in a number of industries. They're not in business to lose money," Tennille said.
Mississippi competed for plant, and Tennille said the state even put more cash on the table than Arkansas. But Correnti liked the Arkansas site -- which sits on the Mississippi River and boasts a levee that hasn't been breached since 1927) -- and Entergy Arkansas was able to meet key energy rates.
Big River was working with three other states on the project. Tennille said that if Arkansas passes on the deal, he has no doubt it will show up in a neighboring state.
AEDC worked on locating the project in central Arkansas, which would have guarantee a greater number of Arkansans on the payroll. But, ultimately, the unidentified central Arkansas site wouldn't work due to "logistics."
AEDC negotiated the grant portion of the incentive package down to $50 million. At first, AEDC assumed the project would be all grant. But they whittled the deal to $50 million to make it as easy as possible on the state budget, he said.
ATRS learned of the deal last fall when Big River Steel was looking for a loan on the project. ATRS liked the look of the deal and asked for an equity stake.
ATRS contracted with Delta Trust to conduct a review of the investment, which it began in September. ATRS Director George Hopkins said the review examined the steel market, scrap metal prices over the past five years, and deviations in capacity. That model generated ATRS' estimates for a 23 percent annual return.
French Hill, chairman of Delta Trust, told senators that his analysts looked at Correnti's background and how the mill would fit with competitors (both in Arkansas and in the wider market). Hill said that Delta Trust's view is that, even if the mill operates at 62 percent capacity, it will service debt and generate a return to ATRS.
Hill said Delta Trust's analysis included interviews with Correnti and his management team. He said Correnti and his group have a reputation of being able to build mills on time.
Tennille says Big River believes there's a 20 percent overlap with products produced by Nucor plants in Mississippi County. He said representatives from Nucor told him they believe that "percentage might be low." But the idea is for Big River to spend the first three years or so getting ready to produce higher-grade steel for use in the electrical and automotive markets. And there are no Arkansas competitors for those products.
Hopkins said Big River's high-quality steel will be thick and wide, and Big River will be the only mill producing this kind of steel. The mill will be built by SMS of Germany, and will be energy-efficient and environmentally friendly, Hopkins said.
Beebe introduced Tennille and, receiving no questions from senators, left the meeting, turning it over to his economic development director to handle.

Latest Arkansas Business Poll
Do you approve of Gov. Hutchinson's plan to deal with health care?