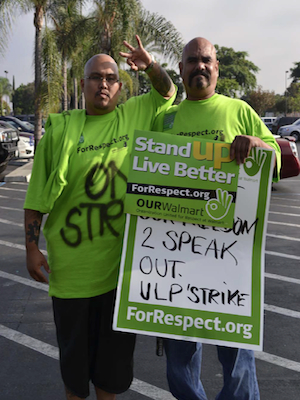 OUR Wal-Mart protestors.
Two Arkansas-based public companies are in legal tussles with unions in their respective industries: the International Brotherhood of Teamsters and the United Food and Commercial Workers International Union.
ABF Freight System
First, ABF Freight System Inc., a subsidiary of Arkansas Best Corp. of Fort Smith, is to appear in federal appeals court April 10 to challenge concessions the Teamsters granted to rival YRC Worldwide Inc.
It's the latest salvo in a long legal battle. ABF wants the concessions invalidated. The Kansas City Business Journal notes that those concessions played a big role in the survival of YRC, which narrowly avoided bankruptcy in 2009.
Meanwhile, ABF and the Teamsters are negotiating to update their own labor agreement ahead of Sunday's deadline. ABF told Arkansas Business on Tuesday that negotiations are continuing this week.
Wal-Mart
Second, Wal-Mart Stores Inc. of Bentonville is suing the UFCW and its subsidiary, OUR Walmart, for tresspassing after the groups staged protests at Wal-Mart stores in Florida last year.
According to Bloomberg Law, Wal-Mart said it repeatedly warned the unions against such "illegal" conduct.
We noted the protests in the run-up to the Black Friday holiday shopping weekend last year. OUR Walmart scheduled protests at stores throughout the country calling on the retail to increase its minimum wage, provide affordable health care and create better work schedules, among other demands.

Latest Arkansas Business Poll
Do you approve of the president taking executive action on immigration?