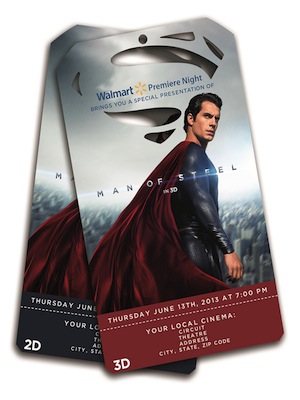 Wal-Mart's "Man of Steel" tickets.
Wal-Mart Stores Inc. of Bentonville, the retail giant that's able to move millions of Blu-Rays and DVDs in a single weekend, is about to launch what the New York Times calls an "unusual promotional partnership" with Warner Bros., as the film studio builds hype for its summer blockbuster, "Man of Steel," director Zack Snyder's Superman reboot.
According to Wal-Mart, the retailer will sell tickets May 18 for an exclusive screening of "Man of Steel." More than 3,700 Wal-Mart stores will participate, offering customers a chance to buy up to four movie tickets per visit.
The advance screening will take place in selected local theaters at 7 p.m. June 13. That's the day before the film is released to all audiences.
According to the Times:
The promotion is designed to fill seats on opening weekend; Warner is counting on extensive in-store advertising and a burst of chatter on social media. Simultaneously, the goal is to send shoppers cascading into the arms of the world's largest retailer. Warner and Walmart billed the partnership as a Hollywood first.

"You hear these staggering numbers of how many people walk through a Walmart every day, and that gives us an exposure that we really can't put a dollar number on," said Dan Fellman, Warner's president of domestic distribution.
Needless to say, Warner Bros. has a lot riding on the success of the big-budget "Man of Steel," which stars Henry Cavill as Superman and Michael Shannon as Zod. The studio was disappointed with its previous reboot effort, "Superman Returns," released in 2006 and directed by Bryan Singer, despite a worldwide box office take of more than $360 million.
Wal-Mart will also offer an array of "Man of Steel" merchandise and special offers on the film's eventual Blu-Ray and DVD release.
The promotion will make for a busy June the company, which is holding its annual shareholder meeting June 7 in Fayetteville. Might the Man of Steel appear at Bud Walton Arena?

Latest Arkansas Business Poll
Do you approve of Gov. Hutchinson's plan to deal with health care?