5/6/2013 08:47 am
Updated 2 years ago
Comments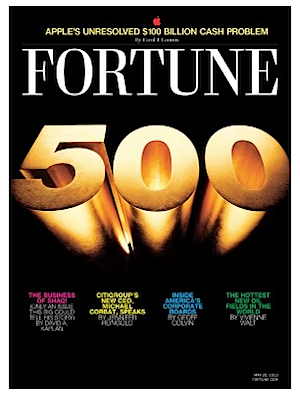 The 2013 Fortune 500.
Wal-Mart Stores Inc. of Bentonville has regained the top spot on Fortune magazine's annual list of the country's largest corporations, released Monday. Meanwhile, Windstream Corp. of Little Rock joined the list for the first time, ranking No. 414.
Wal-Mart, which ranked No. 2 on the list behind Exxon Mobil last year, ranked No. 1 with $469.2 billion in fiscal 2012 revenue. Exxon ranked No. 2 with $449.9 billion. Chevron ranked No. 3 with $233.9 billion.
Windstream, at No. 414, reported revenue of $6.3 billion. The broadband and wireline telecommunications firm's inclusion on the list list comes about seven years after it formed as a spinoff of Alltel Corp.'s wireline assets. Windstream vaulted into the top 500 thanks to its $2.3 billion purchase of Peatec Holding Corp. in December of 2011.
Other Arkansas companies made the list.
While Wal-Mart was ranked No. 1 by revenue, it was No. 7 in terms of net income, behind Exxon Mobil, Apple, Chevron, J.P. Morgan Chase & Co., Wells Fargo and Fannie Mae.
Wal-Mart's profit of just under $17 billion represents a profit margin of 3.6 percent. By comparison, Apple's margin was almost 46 percent and Wells Fargo's was almost 21 percent.
The margins of other Arkansas companies among the top 500:
Tyson: 1.75 percent (net income of $583 million on $33.3 billion in revenue).
Murphy Oil: 3.4 percent ($970.9 million on $28.8 billion).
Dillard's: 4.9 percent ($336 million on $6.8 billion).
J.B. Hunt: 6 percent ($310.4 million on $5.1 billion).
Windstream: 2.7 percent ($168 million on $6.2 billion).

Latest Arkansas Business Poll
Do you approve of Gov. Hutchinson's plan to deal with health care?