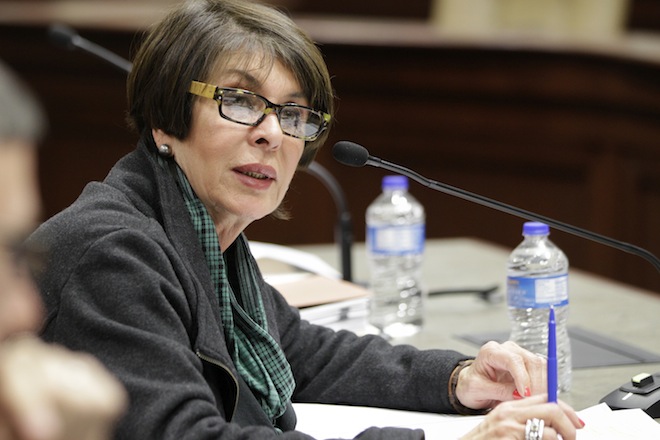 Martha Shoffner
Update: And now we know.
Original item:
Here, ultimately, is all the official information available about the arrest Saturday of Arkansas State Treasurer Martha Shoffner:
The charge listed on the jail docket is "hold for U.S. Marshal" and the arresting agency is listed as the Federal Bureau of Investigation;
FBI spokeswoman Kimberly Brunell confirmed that Shoffner was arrested for violating the Hobbs Act, a federal law that is often cited in cases of official corruption. The Hobbs Act was, for instance, used in the recent prosecution of Helena-West Helena police officers in the corruption investigation known as Operation Delta Blues.
Shoffner, 68, has been the subject of a critical audit and legislative hearings into the operation of her office and certain decisions that reduced the state's return on investments. And Arkansas Business reported in January that an FBI investigation dating back at least a year included questions about her handling of campaign contributions.
But until a Monday arraignment hearing before U.S. Magistrate H. David Young, the public will not know whether those issues or something completely new led to the unusual decision to arrest the suspect in a white-collar crime.
Legal sources who spoke to Arkansas Business on condition of anonymity said the spotty information suggests a case that does not follow the typical pattern for white-collar prosecutions in the federal justice system.
Although all cases are unique, individuals suspected of a white-collar crime typically receive a "target letter" informing them of the investigation and are interviewed with counsel. Federal prosecutors prefer not to take cases to trial — in fact, federal sentencing guidelines cut defendants slack if they "take responsibility" by pleading guilty either before being indicted or after indictment but before trial.
Rarely are white-collar defendants taken into custody before they are convicted, either by guilty plea or at trial.
Monday's hearing, then, should clear up several questions:
Has Shoffner already been indicted? Federal prosecutors in the Eastern District of Arkansas typically announced indictments promptly after the grand jury hands them down, and that is typically in the first week of the month. It is possible that an indictment could have been issued and kept under seal. That would be unusual in a white-collar crime, but not unprecedented. The original indictment against former northwest Arkansas developer Brandon Barber for bank fraud, money laundering and bankruptcy fraud was kept under seal for several months. (Barber, however, was living in New York, outside the Western District of Arkansas where he was indicted.)
If Shoffner has not already been indicted, what probable cause did the FBI have to arrest her?
Was she actually arrested by the FBI or, as is more common, by U.S. marshals dispatched by the FBI?

Latest Arkansas Business Poll
Do you approve of the president taking executive action on immigration?