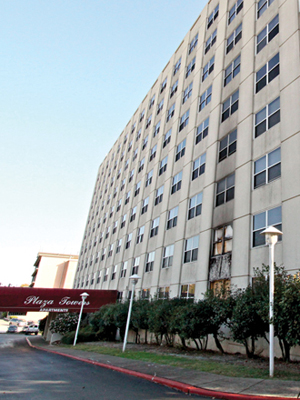 Henry Management Inc. was removed from its management of the Plaza Towers in Little Rock after a fire broke out in a second-floor apartment.
Local NBC affiliate KARK-TV, Channel 4, reports today on more trouble at Plaza Towers, a 132-unit high-rise apartment building in Little Rock owned by David Henry.
From KARK's story, which you can watch and read here:
A group of Little Rock apartment residents expressed concerns about neglect after a maintenance worker found the body of an elderly man who had been dead for two weeks in his apartment at Plaza Towers.

Within the past year residents have dealt with fire, flooding and most recently a dead neighbor decomposing right down the hall, and according to Little Rock police logs, that's not all.

When asked to describe his apartment, Herman Crutchfield says it's, "Pure hell."

"We have people off the streets sleeping through in the stairways," he adds.
Anyone familiar with Arkansas Business' reporting on Henry's Henry Management Inc. won't be surprised.
Late last year, we reported on a spate of legal actions and bad happenings at Henry properties, including Plaza Towers, which is now being managed by Ledic Management of Memphis, Tenn. But records show that David Henry's PT Apartments Ltd. still owns the property, which it purchased for $4.1 million in 2005 from Plaza Towers Apartments LLC, led by Joe Selz.
Ledic was put in place after Henry Management was removed as managers of the towers after a fire in June that killed one person and injured five. The city of Little Rock declared the property "a nuisance and detrimental to the public welfare of the citizens of the city of Little Rock." It gave PT Apartments 15 days to begin "substantial repairs" or demolish the structure.
Having properties in distress isn't new to Henry Management.
In September, Regions Bank sued Henry Management for allegedly failing to manage the St. John's Apartments in southwest Little Rock. The lawsuit said Henry Management was long overdue on water and power bills, and several entire buildings were without air conditioning. Regions alleged that David Henry had made an urgent request in August for $63,000 from his partners for unpaid bills.
And late last year, Regions and Centennial Bank filed foreclosure suits on Valley Heights Apartments in Little Rock, and Regions filed to foreclose on Arrington Apartments in North Little Rock.
A judge ruled in favor of the banks in the Valley Heights case in April. Valley Heights, a 198-unit complex at 6900 Cantrell Road, had seen a string of burglaries allegedly by apartment residents, the city of Little Rock sued in June to declare the apartments a nuisance.
Meanwhile, Henry Management's website has disappeared, and no one is answering the phones.

Latest Arkansas Business Poll
Do you approve of Gov. Hutchinson's plan to deal with health care?