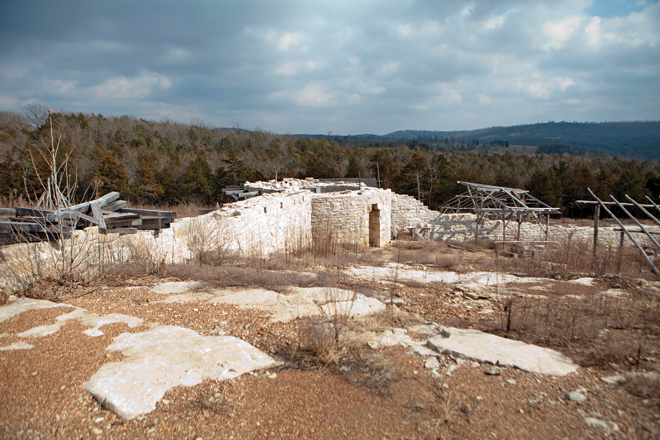 Work on the Ozark Medieval Fortress was abandoned in 2011 after overseas owners deemed the project unworthy of continued support because of low tourist traffic.
The New York Times knows a good story when it sees it, checking in Monday on efforts to sell the Ozark Medieval Castle, the Boone County tourist attraction whose financial struggles Arkansas Business chronicled in March.
You remember the story. Founded by intercontinental investors in May 2010, the project's goal was to build an authentic castle on 50 acres of mostly wooded Ozark Mountain land between the communities of Omaha and Lead Hill. Tourists would pay $20 to aid in construction, which would use 13th century methods. No backhoes and nail guns here.
Except that isn't how it turned out, according to our story by George Waldon:
Nearly all of the medieval construction on display when the project opened to the public on May 1, 2010, was made possible thanks to heavy equipment and modern tools, claims of historic technological authenticity to the contrary.

To the discerning eye, the tell-tale signs of modern incursions are evident despite the veneer of 13th century authenticity.

Air-gunned nails were used to assemble the tread-wheel crane, not handmade specimens created by fortress craftsmen. Door hinges were bought at Ace Hardware, not forged by the on-site blacksmith. Felled trees used in construction throughout the property were cut with chainsaws, not hewn by hand-powered 13th century-style blades.
The business model behind the castle was also suspect. Its distant location meant not enough visitors. And the founders' business practices were at best unsound and at worst dishonest.
Those founders, who include Michel Guyot, didn't talk to Arkansas Business. But one them, Jean-Marc Mirat, did talk to the New York Times. The article doesn't mention much of the business controversy surrounding the castle, except claims that it was underfunded from the get-go.
For his part, Mirat still believes in the project:
While Mr. Guyot and many other investors have written off the project, Mr. Mirat, Mr. d'Allonnes and a few others hope to find a buyer who will invest in their vision. Mr. d'Allonnes has drafted business plans. One would require $1.3 million to finance a restaurant, an R.V. park, a hotel and medieval attractions like apothecaries and the on-site fabrication of leather, soap, fabric and more.
According to the Times, the project has been listed on ReMax at an asking price of $400,000. As of Tuesday morning, however, the listing appears to have been pulled.

Latest Arkansas Business Poll
Do you approve of the president taking executive action on immigration?