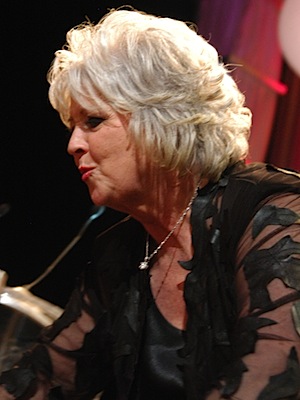 Paula Deen
Supporters of Paula Deen have taken to Wal-Mart's Facebook page in protest after the world's largest retailer said it was ending its merchandising relationship with the Southern celebrity chef accused of using a racial slur.
On Wednesday, after Deen's tearful appearance on NBC's "The Today Show," the Bentonville-based retailer said it ended its relationship with Deen and will not place "any new orders beyond what's already committed."
Wal-Mart sells Deen's line of branded cookware and food products. Other retailers, including Target Corp., are considering dropping the Deen brand, and Food Network said it will no longer carry her cooking show.
Still, others have voiced support for Deen, including another Bentonville firm, Club Marketing Services, which helps companies sell products to Wal-Mart and Sam's Club. And according to The Associated Press, Deen has also received support from the Rev. Jesse Jackson, who said he called Deen and agreed to help her, "saying she shouldn't become a sacrificial lamb over the issue of racial intolerance."
And Deen's fans have been especially vocal on social media, including posts on Wal-Mart's corporate Facebook page. You can see a sample of some of the recent posts below, and Business Insider has a bigger roundup of posts here.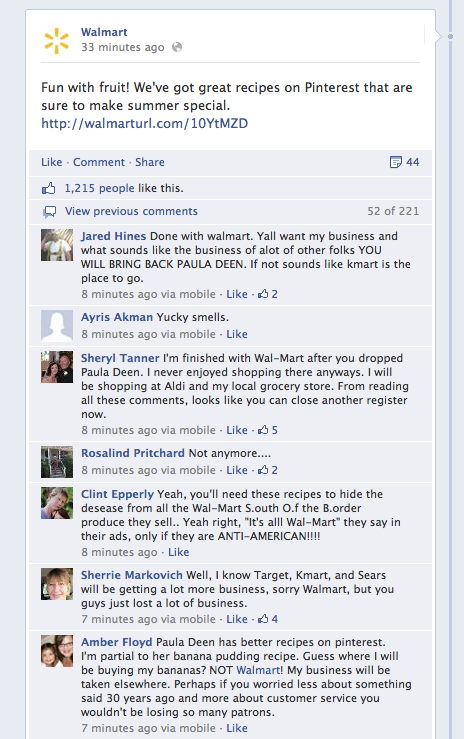 Take Our Poll: Did Wal-Mart do the right thing by ending its deal with Deen?

Latest Arkansas Business Poll
Do you approve of Gov. Hutchinson's plan to deal with health care?