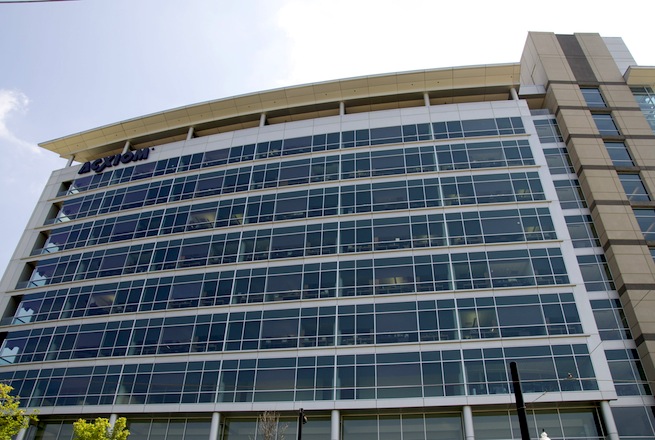 Acxiom's downtown Little Rock headquarters.
Acxiom Corp. of Little Rock tells Forbes magazine this week that it will open its consumer data vaults around Labor Day, allowing people to see just what information the publicly traded data services firms has collected about them.
As Whispers previously reported, Acxiom had signaled early this year that it was preparing a service that would show people what information it has on them. Acxiom has said before that it has information on at least 98 percent of the American adult population.
In April, Acxiom said it was preparing the service for sometime this year. But it told Forbes on Tuesday that it's now shooting for the service to be up and running by the end of the summer, possibly around Labor Day.
"I want to be open about what we are doing and I think there are some misperceptions about what happens and what does not happen," Tim Suther, Acxiom's chief strategy and marketing officer, told Forbes. "The more that we can talk in a straightforward manner, the more likely people are to understand it and draw their own conclusions based on the facts as opposed to supposition."
Acxiom and other data marketers had already been under growing scrutiny since last year, when Congress opened an investigation into several data companies, including Acxiom. The interest in data privacy and collection has grown since, especially after recent revelations about how private companies cooperate -- or are surveilled by -- with the federal government's intelligence operations.
You can read the entire Forbes post here.

Latest Arkansas Business Poll
Do you approve of Gov. Hutchinson's plan to deal with health care?