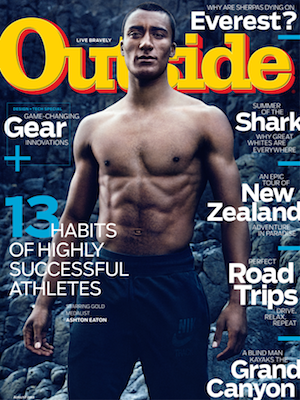 The August 2013 edition of Outside magazine.
It's the summer of accolades for Arkansas, with mentions in Forbes, Kiplinger's and now Outside magazine, which calls Little Rock "a runner's paradise."
The designation comes as part of the magazine's "Best Towns of 2013" feature, which lists Little Rock among 19 cities across the country. Here's a sample of what writer Matt Skenazy has to say:
"You can bike or run loops for miles," says Leah Thorvilson, 34, a marathoner who works at GoRunning, a local store. Life here isn't just about sweat, though; thanks to a strong aerospace industry, the town's economy is one of the most stable in the South, and residents convene at a twice-weekly farmers' market, free weekly summer jazz concerts in the River Market district, and Pinnacle Mountain State Park, with 2,356 acres of hiking and mountain biking.
You can read the full feature on Outside's "Best Towns" right here.

Latest Arkansas Business Poll
Do you approve of Gov. Hutchinson's plan to deal with health care?