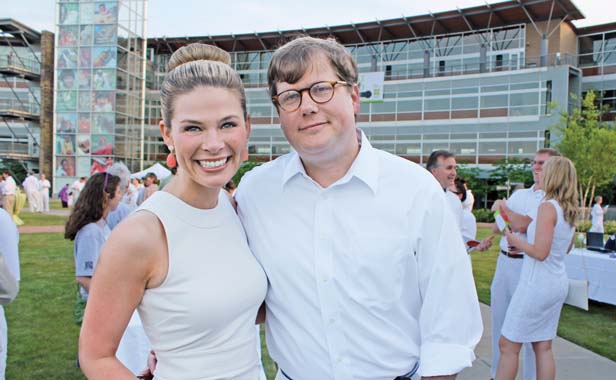 Jessica Dean and Blake Rutherford, Philly-bound.
KARK-TV, Channel 4, anchor Jessica Dean announced Monday that she's leaving the Nexstar Broadcasting Group-owned NBC affiliate in Little Rock to join KYW-TV, Channel 3, the Philadelphia CBS affiliate (also known as CBS Philly) in September.
The move is huge in terms of television markets: Little Rock is a No. 56-ranked TV market with 562,000 TV homes; Philadelphia is ranked No. 4 with 2.9 million homes. Dean's also joining a station owned by CBS Television Stations, a subsidiary of CBS Corporation. She replaces anchor Susan Barnett, who left the station at the end of April.
Dean, on Twitter earlier today:
I am thrilled to announce I'll be the new evening anchor @CBSPhilly with @chrismayphilly. It's been a joy to spend three years @KARK4News.

— Jessica Dean (@JessicaDean) August 19, 2013
Who's @ChrisMayPhilly? Why, he's former KATV-TV, Channel 7, anchor and native Arkansan Chris May, who left the ABC affiliate way back in 1998. The two will no doubt have plenty of old home stories to talk about; Dean also worked as a reporter for KATV before joining KARK in 2010.
Obviously, Dean and husband Blake Rutherford will be moving to Philadelphia soon. Rutherford has had a job change of his own this year, leaving the state attorney general's office for a job at McLarty Companies as a vice president. Rutherford says he'll continue working for McLarty, which does plenty of business in Washington D.C. and New York, which are both quickly accessible from Philly.
More: Ashley Ketz will replace Jessica Dean, accoriding to KARK.

Latest Arkansas Business Poll
Do you approve of Gov. Hutchinson's plan to deal with health care?