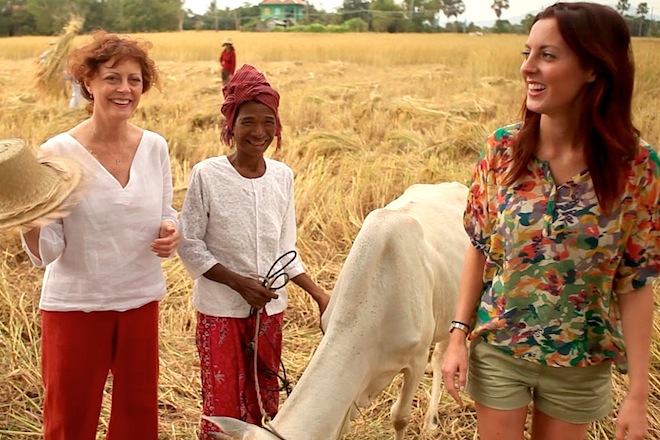 Susan Sarandon, left, and daughter Eva Amurri Martino, far right, in Cambodia in 2011 for Heifer International.
Heifer International of Little Rock said Friday that it will honor Academy Award-winning actress Susan Sarandon at its 2nd Annual "Beyond Hunger: A Place at the Table" gala event on Sept. 19 at the Montage Beverly Hills Hotel in Los Angeles.

The event will also feature country music trio The Band Perry.
Event co-hosts include Geena Davis, Jon Heder and Sarandon's daughter, Eva Amurri Martino. Proceeds from the gala will go to Heifer's worldwide efforts to fight hunger and poverty.
Here's what Heifer had to see about its honoree:
Demonstrating her commitment to promoting and advancing the mission of Heifer International, Susan Sarandon advocates for Heifer through field visits, events and speaking opportunities. In 2011, Sarandon traveled with her daughter, Eva Amurri Martino, to Cambodia to witness first-hand Heifer's fieldwork including participating in a Passing on the Gift ceremony where families pass on the first female livestock offspring to another community member in need.

Latest Arkansas Business Poll
Do you approve of Gov. Hutchinson's plan to deal with health care?