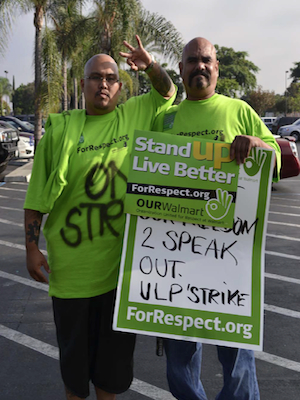 OUR Wal-Mart, on the move again.
The Nation says union-backed protest group OUR Wal-Mart plans its biggest protest since Black Friday on Thursday in 15 cities:
This week's rallies follow an August 22 civil disobedience action at which the campaign announced a Labor Day deadline for Walmart to raise its wages to at least $25,000 per year, and reverse the terminations of twenty workers who participated in a June strike.

As The Nation has reported, nearly eighty OUR Walmart members have been disciplined by the company since returning from the June walkout. OUR Walmart's response to the alleged illegal retaliation has included protest rallies, pressure on Yahoo! CEO and Walmart board member Marissa Mayer, and outreach to members of Congress.
In its report, The Nation cites emails sent to OUR Wal-Mart members. It says protests are planned in downtown Los Angeles; Washington DC; Baton Rouge, La.; Boston; Chicago; Cincinnati; Dallas; Denver; Miami; Minneapolis; New York; Orlando, Fla.; Sacramento; San Francisco; and Seattle.
You'll remember OUR Wal-Mart mounted several protests throughout the country last November.
Meanwhile, in Alaska, Wal-Mart faces a protest of a different kind tomorrow, when representatives of the state's fishing industry plan to demonstrate at the retailer's South Anchorage store. They're angry about Wal-Mart's new policy of selling salmon products with sustainable certification labeling from a European NGO.
The group calls the policy "monopolistic, profit-driven, anti-American, and anti-environmental."

Latest Arkansas Business Poll
Do you approve of the president taking executive action on immigration?