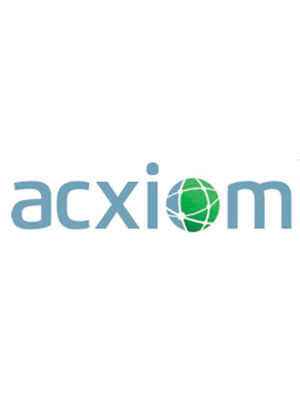 Today, publicly traded data miner Acxiom Corp. of Little Rock launched AboutTheData.com, a website designed to allow people like you and me to see what information the company has collected about us from all manner of public records, self-reported surveys and more.
It also allows anyone to correct data about themselves and even opt out of Acxiom's marketing efforts, meaning you'll no longer see ads targeted around subjects Acxiom thinks -- based on its data about you -- are relevant to you.
In all, it's a rare chance to take a peek behind the curtain of a firm that makes its money mining, organizing and selling consumer information to big companies -- and sometimes even providing data to the federal goverment.
So how does the site work? And what does the site know about me? Here's a quick primer of what to expect -- and a little about what I found -- at AboutTheData.com.
First, be prepared to give up a little more info about yourself. To access your data on the site, you'll have to first prove you are, well, you. To do that, you'll have to provide your name, address, birthdate, email address and the final four digits of your Social Security number.
That might make some folks wary, especially if they've come to the site to opt out of Acxiom's marketing efforts. But reading the site's Privacy Policy, it doesn't appear that Acxiom is using that information for anything other than verifying that you are who you say you are.
You can change your information as often as you want. Once you've identified yourself to Acxiom, you'll be able to pull up your data whenever you visit the site and make whatever changes you'd like. While the changes will display immediately, Acxiom says it could take 90 to 120 days for the changes to be updated throughout its systems.
Acxiom gets its data from three main sources. First are government records, public records and what it calls "publicly available data," which includes telephone directories, website directories and postings, property and assessor files and government issued licenses. It also collects info from any surveys or questionnaires you fill out. And there's also information culled from "commercial entities where consumers have been provided notice of how data about them will be used, and offered a choice about whether or not to allow those uses — like demographic data."
You'll be able to view your data in six categories:
Characteristic Data - This is your age, education level, marital status, whether you have children, how you vote and your occupation.
Home Data - This is all about your home, including where you live, residence type, any mortgages you have, the value of your home, when your home was built and related information.
Vehicle Data - This is about your automobile, vehicle type and insurance.
Economic Data - This deals with your estimated household income, whether you have a credit card, how often you use that credit card and whether you make online purchases.
Shopping Data - Some of this deals with how you order things through the mail and, on a very general level, what type of goods you've purchased.
Household Data Interests - This deals with the type of interests you have, including stuff like cooking, the arts, charitable giving, home improvement, pet ownership, travel and more.
For me, Acxiom's information was pretty accurate! Best I can tell, Acxiom has a fairly good picture of me except for two key things: my birthdate and my family situation.
For some reason, Acxiom thinks I was born in 1955, which would put me at 58 years old -- 22 years old than I actually am. A little icon next to that data says the source for that information is "self reported." So maybe I gave bad info on a survey once? My parents are about that age, so I also wonder if some of their data got mixed up with mine. But there's no way of knowing, and of course I can correct it.
Acxiom also thinks my wife and I have exactly "1 Child." We have exactly zero. I can correct that information, too.
Otherwise, the data Acxiom has amassed about me and my household is very nearly on the money, albeit in a very general way. Acxiom knows I completed high school and college but it doesn't know where or when. It guesses my ethnicity -- American -- based on my surname. It puts my home purchase amount within a $50,000 range. It knows I drive a Chevrolet, but doesn't provide a specific make, and the model year is off by 12 months. But it knows when my auto insurance renews.
Acxiom presented my household income within a $25,000 range. And in terms of our household interests, apparently we're interested in everything -- all categories were marked as "true" -- which makes me question how they gathered that data. But in terms of our travel history, it did know about the trip we took to Canada last year.
In the end, it doesn't bother me at all that Acxiom knows this stuff. Your mileage may vary. You might look at the demographic data Acxiom has amassed about you and go quickly to the "opt out" button.
But with AboutTheData.com, Acxiom is betting that you won't. It figures that if you know what it's collecting and where it's collected it -- as well as giving you the power to correct that data and, yes, opt out -- you'll feel better about what the company is doing. And maybe you won't even mind it all.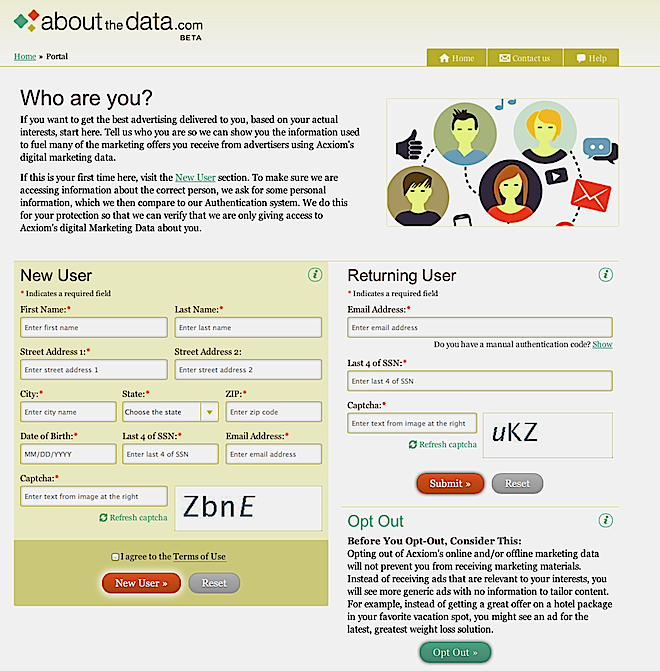 Take Our Poll: Now that Acxiom allows you to opt out of its marketing efforts, will you opt out? Let us know right here.
Previously: From 2000, when Arkansas Business Editor Gwen Moritz asked, "How much does Acxiom know about me?"
New Developments: Acxiom CEO Scott Howe blogs at AboutTheData.com, and is AboutTheData.com a good first step?
Also: On THV 11 News on Wednesday, I talk to Meredith Mitchell about what to expect from AboutTheData.com:

Latest Arkansas Business Poll
Do you approve of Gov. Hutchinson's plan to deal with health care?