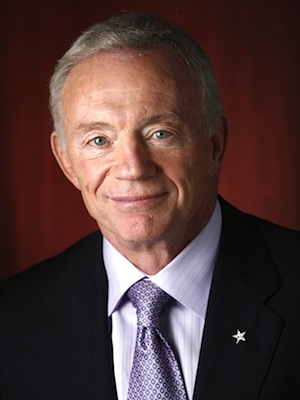 Jerry Jones, the owner of the Dallas Cowboys.
The New York Times today profiles Jerry Jones' Dallas Cowboys, an NFL franchise "valued at $2.3 billion by Forbes, putting them on equal footing with the Yankees as the most valuable American sports franchises," even without the wins:
But the football operation, which Jones also lords over, remains a largely unfulfilled promise. It is not just that the three Super Bowls won under Jones are so distant, the last coming after the 1995 season. It is that Dallas has not come close since then.

The Cowboys, who have not reached the postseason since 2009, have won just one playoff game in the last 16 seasons. There are 26 teams that have won more in that span. One of those is the other team in the state, the Houston Texans, who did not exist until 2002.

Jones said he would not fire himself as general manager, saying instead that he had taken a long look in the mirror in recent years and had changed. But at the age of 70, just how much?
The full story here.

Latest Arkansas Business Poll
Do you approve of Gov. Hutchinson's plan to deal with health care?