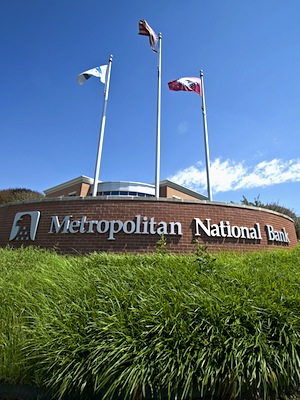 On the block.
Update: Simmons says it won the auction, subject to a judge's approval. More here.
Original post:
That historic auction of Metropolitan National Bank of Little Rock takes place today, with bidders including Simmons First National Corp. of Pine Bluff and Arvest Bank of Fayetteville.
The process -- the first of its kind in Arkansas banking history -- is scheduled for 9 a.m. at the Wyndham Hotel in North Little Rock. A hearing before Bankruptcy Judge James Mixon is scheduled for Thursday to consider approval of the winning bid.
In an article for subscribers today, American Banker asks whether the action surrounding Metropolitan will spur more livier auctions around the country. Most recent auctions of this kind have only drawn bids from "stalking horse" bidders.
In Metropolitan's case, the "stalking horse" is Ford Financial Fund II, a $750 million investment fund out of Dallas led by Gerald J. Ford and Carl B. Webb, which has offered $16 million for 100 percent of the bank's stock. Metropolitan announced Ford's offer in July.
As the stalking horse in the bankruptcy reorganization, Ford Financial will have the opportunity to match a more favorable bid submitted by other entities. If Ford ends up being outbid, Rogers Bancshares will have to pay Ford a $640,000 "break-up fee," which will also require the judge's approval.
This whole process, according to American Banker, has found fashion after the 2010 restructuring of AmericanWest Bank:
Even the idea of untying battered, but salvageable, banks from their debt-raddling holding companies through bankruptcy was considered radical or extreme a few years ago. Given the success of the bankruptcy restructing of AmericanWest Bank, considered the first successful 363 auction in 2010, the method has gained momentum. With supply of failed banks slowing down, the opportunists are now eyeing the auction block.
The number of banks being shut down by the Federal Deposit Insurance Corp. has dropped dramatically. So far this year, the FDIC has closed only 19 banks compared with 41 at this point in 2012 and more than 100 in 2010.
Today's Metropolitan auction is supposed to be closed. We'll post more when we can get it.

Latest Arkansas Business Poll
Do you approve of Gov. Hutchinson's plan to deal with health care?