9/10/2013 10:30 am
Updated 1 year ago
Comments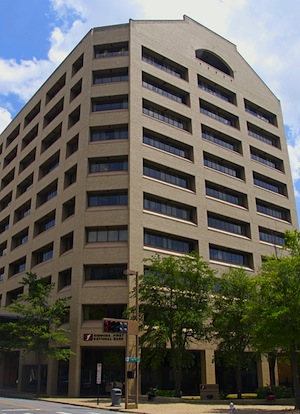 Simmons First National Bank Corp. building in Little Rock.
As we reported last night, "Project Diamond" has yielded an apparent winner. Simmons First National Corp. of Pine Bluff emerged from an unusual auction Monday and announced a successful bid to purchase Metropolitan National Bank of Little Rock.
The deal has already received attention in banking circles because of its rarity. Bank auctions with "stalking horse" bidders are unusual; bank auctions in which the stalking horse fails to win the auction are nearly unheard of.
And with the the number of banks being shut down by the Federal Deposit Insurance Corp. dropping and the supply of banks for acquisition-hungry financial entities drying up, many industry-watchers see more of these auctions in the future.
With all eyes now on publicly traded Simmons First National Corp., what's next in this historic banking deal? Here's what we'll be watching:
1) What did Simmons First bid for Metropolitan? Simmons didn't provide details of the bid last night. It said it would issue "detailed information" on Thursday after a U.S. Bankruptcy Court ruling on the deal. It also plans to discuss the matter in an analyst conference call at 4 p.m. Thursday. What does Simmons' proposal look like? And what did competitors bid?
2) Will the deal get bankruptcy court approval? Bankruptcy Judge James Mixon is scheduled to consider approval of the winning bid on Thursday. The judge has to OK the deal because all this is playing out under the Chapter 11 bankrupcy of Rogers Bancshares Inc., the holding company that filed Chapter 11 to facilitate the sale of Metropolitan, essentially its only asset.

3) How much additional capital must Simmons raise to capitalize the new, combined Simmons/Metropolitan bank? Judging by Simmons' balance sheet, the bank might very well need an additional $50 million or so to meet ideal capital levels for a bank the size of the new Simmons/Metropolitan, which will have about $3 billion assets.
4) Where would that additional capital come from? Simmons could do a lot of things here should it need the additional capital, including pulling cash from its holding company. But the holding company doesn't have an extra $50 million lying around, so will it borrow or sell additional stock? In 2010 -- when, yep, Simmons was regularly whispered as a candidate for buying Metropolitan -- the company raised $70 million in a stock offering specifically for acqusitions. (And it has made some additional acquisitions since then.)
5) Which bank branches stay, and which bank branches go? As we noted last night, the combined Simmons/Metropolitan would have significant overlap with a Simmons sister bank, Simmons First Bank of Northwest Arkansas. There would be other areas of branch overlap as well, so we would anticipate the closure of several offices. That leads us to ...
6) How many jobs will be cut? A merged bank doesn't need as many top-level executives and back shop employees. And when you cut branches, you cut jobs. This is one area where a successful bid by the "stalking horse," Ford Financial Fund, would have been preferable for bank employees. As an investment fund and not an existing bank, Ford Financial would need most employees of an already lean Metropolitan National Bank. Job cuts in that scenario would have been minimal if needed at all. And speaking of jobs ...
7) What happens to Metropotian National Bank's leadership? Whither Lunsford Bridges and Susie Smith? Again, under the Ford Financial scenario, apart from adding Ford leaders Gerald J. Ford and Carl B. Webb to the Metropolitan board, no leadership changes were planned.

Latest Arkansas Business Poll
Do you approve of Gov. Hutchinson's plan to deal with health care?