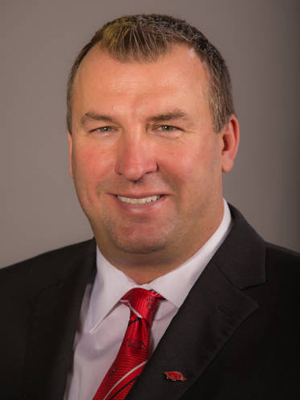 Bret Bielema
As has been reported, the University of Arkansas is releasing its six-year, $2.95 million per year employment agreement with Razorbacks football coach Bret Bielema.
You can download a copy right here (PDF).
Arkansas Business has already reported many of the contract details as they were outlined in a letter of agreement Bielema and the UA signed in December. Note that the full amount Bielema is getting is $3.2 million per year for six years.
That figure is made up of the $2.95 million Bielema receives from the UA, covered under the contract released today, and an additional $250,000 per year covered under a separate agreement with the Razorback Foundation. That agreement covers speaking engagements "on behalf of the Razorback Foundation," according to Kevin Trainor at the UA.
Here's some of the highlights of Bielema's contract with the UA:
$2.95 million per year salary
$12.8 million buyout in the first three years of the contract, if he is fired
$9.6 million buyout in year four
$6.4 million buyout in year five
$3.2 million buyout in year six
$3 million buyout in year one, a figure that decreases by $500,000 each year, if Bielema takes another coaching job
There's also an array of incentives for certain athletic achievements:
$100,000 for winning an SEC Championship
$350,000 for winning a National Championship
$300,000 for appearing in a National Championship game
$200,000 for appearing in a semifinal playoff game beginning in the 2014 season
$150,000 for appearing in a non-title BCS bowl game beginning in the 2014 season
$100,000 for appearing in the Capital One Bowl or the Cotton Bowl
$50,000 for appearing in any other bowl game
$25,000 for winning SEC coach of the year
$25,000 for winning national coach of the year
Other items in the contract include:
The UA furnishing Bielema two loaned vehicles
An array of game tickets, including a skybox suite with 12 seats to all home football games and 20 complimentary tickets for each home game
Club memberships at The Blessings and the Fayetteville Country Club
The opportunity to conduct a summer football camp for private compensation using university facilities
Bielema, now in the thick of his first season with the Razorbacks, came to Arkansas after seven seasons with the Wisconsin Badgers, where he was making $2.6 million per year.
The Razorbacks are 3-0.

Latest Arkansas Business Poll
Do you approve of Gov. Hutchinson's plan to deal with health care?