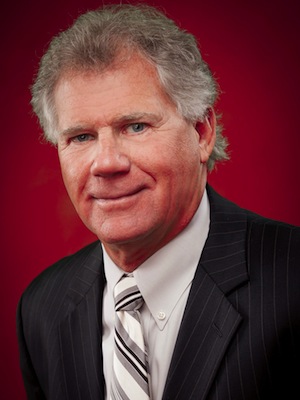 Johnny Allison
Home BancShares Inc. Chairman Johnny Allison was part of a panel of bankers speaking at the RBC Capital Markets' Financial Institutions Conference in Boston this week. While there, he got some unsolicited, but friendly, advice about his ambitions.
Allison, the gregarious wheeler-and-dealer who's overseeing the final steps of the largest in-state banking deal in Arkansas history, appeared on the panel with Ed Wehmer of the $17.6 billion-asset Wintrust Financial, and David Zalman of the $16.3 billion-asset Prosperity Bancshares.
Allison representated the smallest bank on the panel with about $4 million in assets. Part of the discussion, according to the website Financial Planning, was growth as it pertains to the Dodd-Frank Act:
Allison has said that his goal is to build Home's assets to about $8.5 billion and then weigh his options. With a stock that trades at nearly four times Home's tangible book value, Allison says he is now considering going over the $10 billion-asset threshold. At that level the company would be subject to interchange fee limits under the Durbin amendment of the Dodd-Frank Act, as well as to additional regulation.

Zalman told Allison to leap past $10 billion, not to tiptoe.

"If you're going to 10, you can't stop. You gotta go to 20," Zalman said, adding Prosperity lost as much as $8 million from interchange fees just by crossing that threshold. "You can't stop there."
To that end, Allison also noted that he'd been looking at still more banks to buy in Florida before Home BancShares' opportunity to snatch up Liberty Bancshares of Jonesboro presented itself. He said he intends to return to Florida as soon as the Liberty deal closes, which is likely to happen by the end October.
You can read the full Financial Planning article right here.

Latest Arkansas Business Poll
Do you approve of Gov. Hutchinson's plan to deal with health care?