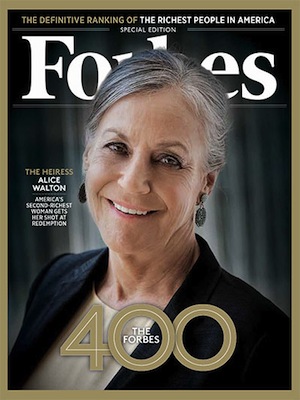 Alice Walton in the Oct. 7 edition of Forbes.
Wal-Mart heiress, philanthropist and the founder of Crystal Bridges Museum of American Art, Alice Walton, is on the cover of the Oct. 7 edition of Forbes magazine.
The story is part of the magazine's annual package of the richest 400 people in America -- a list where the top 10 is dotted with members of Walton family. But the story focuses on her work at Crystal Bridges, a world-class art museum that continues to fascinate (and often irritate) coastal cultural elites because it's a world-class art museum in the Ozarks.
And speaking of far-flung Bentonville, the Forbes story opens on what likely Walton's next project: getting more direct flights into the local airport:
Slight and silver-haired, Walton stands in the lobby of her Crystal Bridges Museum of American Art addressing a gauntlet of staff assembled to greet her one sweaty July afternoon. "We need discount carriers!" she says, raising her voice and one fist in mock outrage, tempered with a grin.

For all the fanfare of its 2011 opening, its stunning verdant setting and an art collection worth upwards of $500 million, Crystal Bridges is still in Bentonville, Ark., Walton's –and Walmart's — hometown, but hardly a tourist hub.

In August the museum celebrated its millionth visitor, a coup for a 21-month-old institution in a Bible Belt town of 40,000. Walton knows she needs to ink a deal with JetBlue or Southwest or another of their ilk for a route through Northwest Arkansas Regional Airport to help sustain foot traffic now that initial Crystal Bridges buzz has died down.

"We've got to figure out how to get that done," she says in her slow, undulating twang, brown eyes framed by her trademark purple eyeglasses. "And we are going to."
The full story, which delves into some of Walton's childhood and, yes, some unfortunate traffic incidents, is available here.

Latest Arkansas Business Poll
Do you approve of the president taking executive action on immigration?